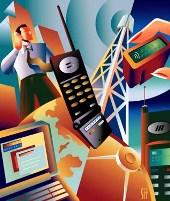 Prepaid mobile customers should opt for higher value STD vouchers and plans that offer the maximum talk time.


Actor Aamir Khan's latest advertisement shows him using a mobile phone handset that can hold two SIMcards.


Unfortunately, the device is a little late for Harsh Patel, who till some time ago had to carry two SIM cards -- one that offered cheap local calls and another with cheap subscriber trunk/toll dialing calls.


His reason: "The tariff war between service providers has brought STD rates on a par with the rates for local calls. So, having two numbers helps me get the best of both the worlds," says the 18-year-old.


Prepaid customers like Harsh constitute 95 per cent of mobile subscribers. A visit to various operator stores in Mumbai shows there is little variation in STD rates and plans that service providers offer prepaid customers.


The standard STD rate is Rs 1.50 a minute, but there are schemes that offer as low as 50 paise-a-minute and one-paisa-a-second.


With per-second STD billing, service providers claim it can't get cheaper.


"But one needs to look at the fine-print of every plan, and only an informed subscriber can make the most of his\her options", says Shriti Anand, telecom research analyst, Angel Broking.


Olav Sande, executive vice-president of Uninor's Mumbai hub, says, "The best strategy for subscribers with higher STD use is a plan that gives them the maximum talk time. Additionally, buy recharge packs that offer STD minutes".


Uninor, one of the new entrants in the telecom industry, offers extra talk time on high-end recharges, which is more than just a full talk-time offer.


While choosing a plan, subscribers should look at the following:


Full talk-time packs


Opt for plans that give you talk time equivalent to the amount recharged. Higher recharge packs give you more talk time as compared with the lower ones. For instance, a Rs 500 recharge on Uninor offers talk time worth Rs 600.


Operators deduct certain fees in case of lower recharges. For instance, a Rs 50 recharge gives you talk time of Rs 43.33 only, as operators deduct Rs 4.67 service charge and Rs 2access fee.


While most service providers offer full talk time on a minimum recharge of Rs 222, the new players are offering this on as low as Rs 10 and Rs 5.


Bonus cards


These cards offer special STD minutes (instead of talk time),
equivalent to the recharge voucher. The minutes can be used even when there is zero balance in your prepaid account. Similarly, one can opt for bonus packs that offer special STD tariffs.
Validity periods


Apply for both plans and recharge packs. The one-paisa-a-second billing lasts only for a fixed period, after which the rates may increase. Vodafone offers one-paisa-a-second for the first 10,000 seconds, while Tata Docomo offers this for 27,000 seconds in a month.


Per second/minute plans


While operators are attracting subscribers by advertising per-second and per-minute rates, per-second billing will work only if you make shorter calls.


"Per-second billing removes the complexities of a normal 60 second pulse, in which a customer is billed for the entire minute even though the actual use is low," says a Tata Teleservices spokesperson. Tata Docomo was the first company to launch the pay-per-second concept.


A first-time prepaid customer can get the plan activated only on request and on buying special recharge packs. There may be a few conditions with per-second and per-minute billing.


Conditions apply


This can change the tariff structure of a scheme. For instance, special conditions applicable on the 50 paise-a-minute scheme from Vodafone implies customers will end up paying the standard rate of Rs 1.50 paise in the first minute of the day's first call.


"This is a step charge according to the design of the plan. If one wishes to avoid it, one can subscribe to attractive STD vouchers instead," says Rohit Adya, CEO, Vodafone Essar, Mumbai.


Technical assistance


Use automated systems that many service operators have installed. These allow you to know which recharge plan will get you the best deal.