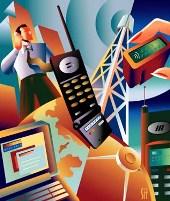 In a major relief to 3G subscribers of Bharti Airtel, the Delhi High Court on Wednesday granted a stay on a government order asking the telecom major to stop offering 3G mobile services outside their licensed areas through roaming pacts.

The Delhi HC has asked the department of telecommunications to not take any coercive action until the next hearing of the case.

This effectively means that Bharti Airtel can continue to offer 3G services in the seven circles-Maharashtra, Madhya Pradesh, Kolkata, Uttar Pradesh East, Gujarat, Kerala and Haryana -- where it does not have 3G spectrum, but offers 3G services through roaming pacts.

The date for next hearing has not been decided.

However, the court has asked Bharti Airtel to respond to the show cause notice issued to them by DoT within 60 days.

Country's largest telecom operator Bharti Airtel on Monday had filed a petition in the Delhi High Court challenging an advisory by DoT which asked the operator to stop intra-circle 3G roaming services within three days.

In its plea, Bharti Airtel had sought quashing of the government's September 28, 2012 decision directing the service provider to stop providing intra-circle roaming services and alleged that the decision is contrary to the interim orders passed by the Telecom Disputes Settlement and Appellate Tribunal.

When contacted Bharti Airtel spokesperson declined to comment as the matter is sub judice.

However, industry association representing GSM players, COAI welcomed the High Court's decision. According to COAI (Cellular operators Association of India) Director-General Rajan Mathews "This (stay on DoT notice) is a good move.

"Intra circle roaming is for consumers as it increases competition and reduces tariff, it is good for the government as well as through intra circle roaming as it leads to maximum utilization of spectrum."

On September 28, DoT had issued a notice to Bharti Airtel, asking the telecom operators to stop providing third-generation mobile services through roaming pacts outside its licensed circles.

DoT had also indicated that similar notices would be sent
to Vodafone and Idea Cellular.
Though, both Vodafone and Idea are yet to receive notices from the DoT, the Delhi HC stay order augurs well for them.
In the auction of 3G airwaves in a 2010, no single company managed to get spectrum in all of the country's 22 zones. Bharti Airtel, Vodafone and Idea had entered into mutual agreements to offer 3G services in circles where they could not bag 3G spectrum.
Bharti Airtel, Vodafone, Idea Cellular, are currently, offering 3G roaming services through such intracircle roaming pacts.
Airtel has 3G spectrum in 13 circles but offers 3G services in 20 circles.
Idea Cellular has 3G spectrum in 11 circles but offers 3G services in 19 circles.
While Vodafone has spectrum in only nine circles, it offers 3G services to its customers in 20 circles.
The number of circles where 3G spectrum was auctioned is 22.
Over one fifth of the 30 million 3G customers across the country would be affected if the three operators suspend the intra circle roaming pact.
DoT had ruled such pacts illegal in December 2011 and asked the operators to stop offering 3G services beyond their licensed circles through roaming agreements.
The operators had filed a petition challenging DoT's verdict in the Telecom Disputes Settlement & Appellate Tribunal.
Tata Teleservices and Aircel was also party in the petition filed by the telcos.
A two-member bench of TDSAT in July gave a spilt verdict on the matter.
While member P K Rastogi said the operators could not provide roaming services, as they were not allowed to provide 3G services with 2G licences, Chairman Justice S B Sinha ordered DoT to start the procedure afresh, as the department had not followed proper procedure and the operators were not given enough time to present their views.
Following the spilt verdict, the operators were maintaining "status-quo" and continuing with their 3G roaming pacts.
Though the operators paid higher prices for bagging 3G airwaves, but the uptake of the service remained, slow among the subscribers partly due to the high cost of such services.
Shares of Bharti Airtel closed at Rs 265.65, up by 0.15 per cent at the Bombay Stock Exchange.