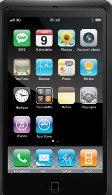 Gaurav Devaras, a 3G mobile broadband user, is happy to learn about the 4G service launch in Kolkata and thrilled about the speed it can offer.
"The price is not very high either," he observes. But there is one mood spoiler - a fair usage policy limit that Bharti Airtel offers as part of its plan.
After a certain amount of data usage, the speed will drop from a level of 10-15 mbps to 128 kbps. "My usage matches with the data limit they offer. But, it is very sad to know that the speed will drop to such a low. Since I am subscribing to something as high-end as 4G, it should drop to a minimum of 512 kbps," he says.
A speed of 128 kbps is offered by a dial-up internet connection.
It is also lower than the broadband limit of 256 kbps, as prescribed by the Telecom Regulatory Authority of India (TRAI). In response to a query, Airtel said that users can get back the original speed by using recharge packs called smartbytes. The prices of these haven't been disclosed yet.
"These are capped plans that enjoy a validity of 30 days and have a free quota for a particular rental. After exhausting the free quota, one can continue to enjoy high speed by buying smartbytes," says Airtel.
Airtel is the first company to launch 4G services on TD LTE technology in India. The three tariff plans they have launched offer usage quotas at six, nine and 18 GB. The operator is yet to launch specific B2B plans.
"Users who would want to use these kind of speeds would consume a lot of multimedia content as well. I
am not convinced whether the caps on usage will help consumers," says Mritunjay Kapur, managing director of Protiviti Consulting.
Fixed-line connections offer plans with higher amounts of downloads, at comparatively lower prices. But 4G has some distinct advantages. "LTE is a spectrally-efficient technology, which can give high speeds and better experience with applications that involve streaming, content downloads and video," says Kamlesh Bhatia, research director at Gartner Research.
Going ahead, experts expect 4G plans, wherein speeds are not 'throttled' by usage quotas or expensive tariffs for higher usage. Apart from movie downloads, video sharing and live streaming, 4G speeds can also support applications like internet TV. But, extensive usage is not possible with usage caps.
Mayuri Shrotri works from home and uses her internet connection chiefly for downloading files and presentations. The usage cap does not bother her, as her monthly usage falls below the specified limits. "But, the initial investment in the device is very high," says she. Airtel prices Indoor CPE with Wi-fi at Rs 7,750 apeice and 4G multi-mode dongle is priced at Rs 7,999.
The prices of devices and the tariff plans are expected to evolve as more operators launch the service. Alok Shende, co-founder and principal analyst of Ascentius Consulting believes that operators have much more flexibility with tariffs in 4G, as compared to 3G in terms of offers and pricing.
"They can be more aggressive in 4G, even though the cost of infrastructure in LTE is much higher. Thats because they have 20 megahertz spectrum in 4G, as compared to five megahertz in 3G," says Shende.