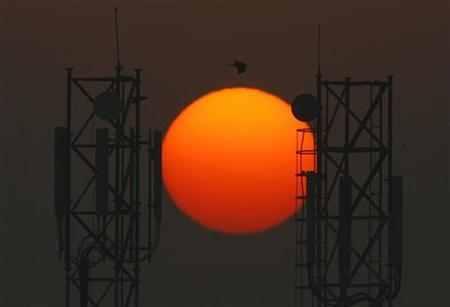 Eight private telecom operators including Airtel, Vodafone, Idea, RCom, Reliance Jio and Uninor on Monday submitted applications to bid for spectrum in the auctions starting March 4.
Aircel and Tata Teleservices too have opted to bid for spectrum. The participation of Reliance Jio Infocomm, Uninor, Tata Teleservices and Aircel has enhanced the chances of aggressive bidding in the auction.
However, Sistema Shyam Teleservices, a potential buyer of CDMA spectrum, opted out citing high base price and legal issue with DoT. Videocon Telecom also did not submit its application.
"Applications from Airtel, Vodafone, Idea Cellular, Reliance Communications, Aircel, Reliance Jio Infocom, Uninor and Tata Teleservices have submitted their forms," a Department of Telecom official told PTI.
Today was the last day for companies to submit applications for the auction. Most of the spectrum being put up for the auction is presently held by Airtel, Vodafone, Idea Cellular and Reliance Telecom. Their licences are set to expire in 2015-16.
It is mandatory for these companies to bid for spectrum if they have to continue offering mobile and other telecom services as their permit is expiring.
The government expects to garner over Rs 80,000 crore (Rs 800 billion) from the sale of radiowaves for providing 2G as well as 3G services, going by the reserve price.
It has approved the minimum or auction start price for the 2,100 Mega-Hertz band or 3G spectrum, which will garner at least Rs 17,555 crore (Rs 175.55 billion). The reserve price for auction of 2G spectrum in 800 MHz, 900 Mhz and 1800 MHz bands will fetch the government Rs 64,840 crore (Rs 648.40 billion).
The government plans to sell 380.75 MHz of spectrum in the three bands - the premium 900 MHz band, 1800 MHz and 800 MHz, besides 5 Mhz in the 2100 Mhz band across 17 out of 22 telecom areas.
Government has fixed reserve price of Rs 3,646 crore (Rs 36.46 bbillion) for pan-India per MHz in the 800 MHz band; Rs 3,980 crore (Rs 39.80 billion) for 900 MHz band (pan-India excluding Delhi, Mumbai, Kolkata, and J&K); Rs 2,191 crore (Rs 21.91 billion) pan-India (excluding Maharashtra and West Bengal) in the 1800 MHz band.
For the 2100 Mhz band, which is used for 3G services, the price of spectrum per Mhz has been fixed at Rs 3,705 crore (Rs 37.05 billion).
The government had garnered about Rs 62,162 crore (Rs 621.62 billion) from the last auction in February 2014.
Proceeds from this year's auction is expected to help the government reach its fiscal deficit target of 4.1 per cent of the GDP.