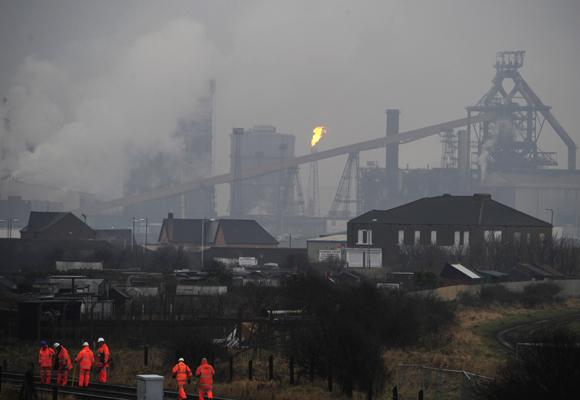 Tata Steel last fortnight announced it has initiated talks with Geneva-based Klesch Group to sell its European long products business.
The assets include Scunthorpe steelworks, an engineering workshop and a design consultancy in the United Kingdom, as well as some units in France and Germany.
Primary among these is Scunthorpe which accounts for roughly 26 per cent of Tata Steel Europe's production capacity.
The sale, if it happens, will help Tata Steel exit a business that is haemorrhaging and has an uncertain future, and give it some cash to deleverage its balance sheet.
The question is, how much is Klesch, which has operations in 17 countries and is a turnaround specialist, willing to pay?
With the risk of deflation looming large over Europe, many fear it might become a distress sale for Tata Steel. This could pinch it hard.
After all, it has spent large sums of money in Europe. In 2007, when Tata Steel acquired Anglo-Dutch steel maker Corus (now Tata Steel Europe) in a $13-billion deal, it was the biggest foreign acquisition by an Indian company.
Tata Steel subsequently invested another £1.2 billion in the UK operations. Still, the company has struggled for most of the seven-and-a-half years since then.
Tata Steel did not respond to a questionnaire seeking comment.
"A final sale irrespective of the price will be positive for Tata Steel in the long-term. Tata Steel has not been able to bring this asset up to the mark despite investment and restructuring. Perhaps, Klesch will do better as it has a better track record of turning around assets," a Motilal Oswal report says.
To begin with, the sale could reduce Tata Steel's European workforce by over 20 per cent: out of the 30,500 people on the rolls of Tata Steel Europe, around 6,500 are employed in the units up for sale.
Hard choices
To be fair, Tata Steel has done a good bit of restructuring of its European operations. In the second half of 2008-09, Tata Steel Europe undertook two cost-saving initiatives: Weathering the Storm and Fit for Future.
The latter entailed tough decisions like headcount reduction and asset restructuring, including closure of some unprofitable businesses.
In March 2011, Teesside Cast Products was sold to Sahaviriya Steel of Thailand for $467 million. But the proposed sale of the long products business is by far the most radical of all turnaround plans.
Some feel that Tata Steel has put these assets on the block only after exhausting all the options.
"The only way to integrate Scunthorpe would be if some of the casting and rolling facilities were physically relocated to India, say to the Kalinganagar project (in Odisha). Kalinganagar then would have to make investments at the primary (steel) end. The other option could be to manufacture semi-finished products in India and finish the rolling at Scunthorpe.
Surely, such possibilities were examined by Tata Steel," a former Tata Steel official involved in the integration process of Tata Steel Europe explains.
Integration has never been easy for Tata Steel Europe.
The Corus group was formed out of the merger between British Steel and Koninklijke Hoogovens in 1999.
The mismatch showed up in the company's financials. Reports suggest that Corus group's market value at the time of the merger in 1999 stood at $6 billion, but fell to $230 million in 2003.
What could disturb the valuation of the business this time around is that the euro zone is slipping.
Recently, Eurostat said that industrial production in the 18 countries sharing the euro fell 1.8 per cent in August from July and the year-on-year decline was 1.9 per cent.
"Even a few quarters back, it was believed that Europe was recovering. But now economists are talking about a possible reversal of the trend," ICRA Senior Vice-president Jayanta Roy says.
The World Steel Association, in its short-term outlook, also mentions that the European Union is facing new challenges, with disinflation and geopolitical tension threatening its continued recovery. The association, has however, projected a demand outlook improvement of four per cent to 145.9 million tonnes, after increasing by 0.8 per cent in 2013.
"But how much of this 4 per cent growth is from flat products and how much is from long products is uncertain," Roy points out.
All this will have a bearing on what Klesch pays Tata Steel for the European long products business.
Old assets
Tata Steel Europe's long products division produces rail, rod, plate and other steel products used by construction and excavation companies.
An industry veteran, however, points out that some of the assets that are on the block are more like "museum pieces".
Given the current uncertainty in Europe, analysts believe that if the deal is valued at anything around $1 billion, it would be good for Tata Steel.
It's another matter that the cost of setting up a new project of that size could be four times that. Without hazarding any guess on the deal size, Moody's Credit Outlook has said the sale would be credit positive because it would be disposing off loss-making assets.
"Scunthorpe, with a capacity of 4.5 million tonnes, has been underutilised compared to Tata Steel UK Holdings' other steelworks, driving down the margins of the group," the report said.
If the deal does go through, then Tata Steel would be left with two major facilities, one at Port Talbot in the UK and the other at Ijmuiden in the Netherlands.
"These are port-based integrated steel plants and together can produce 12 million tonnes," the former Tata Steel official clarifies.
Both the facilities have consistently generated positive EBITDA (earnings before income, taxation, depreciation and amortisation).
Almost back-to-back, Tata Steel has also announced refinancing its bank debt, originally incurred with the Corus acquisition.
"The new financing structure lengthens Tata Steel UK Holdings' debt maturity profile and has no covenant for most of its duration.
It consists of a five-year loan of euro 370 million, six-year revolving credit facility for working capital purposes of £700 million and a seven-year loan of euro 1.8 million," says the Moody's report which also believes that with the twin announcements most of Tata Steel UK Holdings' challenges were now sorted.
In 2013, in an interview to a television channel, Tata Sons Chairman Emeritus Ratan Tata had said if the economy didn't revive, reviving Tata Steel Europe would be extremely difficult and if the economy does start to revive then it will come into its own.
A fresh euro zone crisis is the last thing Tata Steel would want.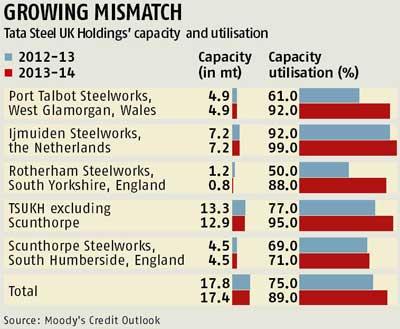 Image: The Corus steelworks at Redcar, Teesside, northern England.
Photograph: Nigel Roddis/Reuters