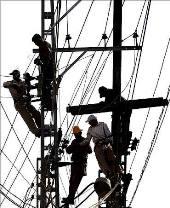 Tata Power, India's largest private power producer, has developed a new succession plan to groom in-house talent to take over critical leadership positions when these fall vacant.

While about 15 per cent of the company's 4,500-odd workforce is retiring in the next five years, its requirement for human resource increases as it plans to expand generation capacity to 26,000 Mw in the next seven years from 6,899 Mw now.

"Our focus of recruitment has been more on entry-level as most of the leadership positions are taken from talent within the company," says Chetan Tolia, chief HR officer.

A sizeable number of the workforce has 25-30 years of experience.

Tata Power started this initiative about a year ago by preparing a list of critical positions, reviewed regularly.

It then picked employees to prepare them for senior roles, without mentioning the specific positions they were being groomed for.

"There are few deliberate talent development tools as a means of creating robust pipeline of talent," said Tolia, who looks at it more as a motivation and retention mechanism than saving on cost. Lateral hires are time-consuming and come with an additional cost.

The company's first category of talent being developed is for positions known as 'drop down'.

These require immediate succession.

The innovation in the succession plan, Tolia claims, is for positions that will be vacant in the next two and the next five years, internally known as 'ready in one to two years' and 'ready in five years'.

"These talents are rotated through
periodic development programmes. It is not one concentrated dose, but given through a process, so that they have the opportunity to apply their mind," says the chief HR officer.
Even the lateral hires have to blend with the leadership pipeline, so they are brought early to learn the organisation's culture.
But the company will still face challenges.
Of the 26,000 Mw planned capacity, about 12,500 Mw is to be built abroad in the next seven years.
It has already divided its business development team into different regions -- Africa, West Asia, India and South Asian countries, Southeast Asia (Indonesia, Burma, Vietnam) and Americas.
In all these regions, the company has created teams and leads.
All the leads are entitled to run and whosoever gets the clearances the fastest, gets the investment.
The company has done so to de-risk itself from domestic project delays.
Currently, the Africa region is leading the race, ahead of India.
Its South African joint venture, Cennergi, formed six months earlier, is already executing projects.
"The model would not be successful across the board, as the company will require foreign talent when it expands overseas," says Sourabh Chattopadhyay, partner and head of India at Wellesley Partners, an executive search firm with presence across the Asia-Pacific.
"The company will need fresh talent for finance and other experts as technology changes."
Tata Power is considered to be one of the low paymasters in the industry.
At a time when the power industry is seeking rapid growth, the company can become a poaching ground in the absence of a strong retention plan.