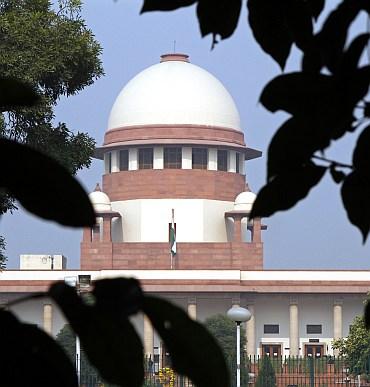 Refusing to stay a possible increase in the price of domestic natural gas days before a new pricing formula was to be finalised, the Supreme Court on Thursday asked the government to clarify its stand on pricing of what is produced from the Krishna-Godavari basin.

The move is likely to force the government to take a faster decision.

The court also sought to know whether the government would stick to its predecessor's proposal to double the price or formulate a new policy.

"Tell us what the situation is.

"Whether you (the government) are going to argue or stick to the previous government's policy, or is there something else," a Bench headed by T S Thakur asked during a fresh hearing on the issue.

Solicitor General Ranjit Kumar said the government had deferred until September 30 the implementation of the pricing formula recommended by the Rangarajan committee and formed a panel to suggest changes in the pricing policy.

"A committee has already been formed.

"Nothing is happening till September 30; the committee can give its report by then. A decision will be taken only after that," the solicitor general said, adding the Centre would make its stand on the issue clear and file an affidavit.

An earlier Bench could not adjudicate as B S Chauhan, who was heading it, retired before the hearing concluded.

The other two members of that Bench -- J Chelameshwar and Kurian Joseph --
are part of the new Bench.
On Thursday, the Bench was hearing public-interest suits by Communist Party of India leader Gurudas Dasgupta and non-government organisation Common Cause challenging the government's decision to raise the gas price from $4.2 to $8.4 a million British thermal unit.
The pleas, filed last year, also seek cancellation of Reliance Industries' contract for exploration of oil & gas in the KG basin.
RIL had earlier sought arbitration on the gas-pricing issue.
The company and its partners, the UK's BP plc and Canada's Niko Resources, had served an arbitration notice on the government in June this year.
They alleged the government's failure to raise the price of gas from April 1 was preventing them from going ahead with $4 billion worth of investments.
The government had last month set up a four-member committee to suggest new pricing guidelines.
The panel, comprising secretaries in the power and fertiliser ministries, the expenditure secretary and an additional secretary in the petroleum ministry, has given its report but a final decision is awaited.
Dasgupta and Common Cause said the government should be asked not to make 'any further increase' in the price of gas produced by RIL from KG basin.
"For every one dollar increase in the price of gas, there will be an extra cost of Rs 10,000 crore (Rs 100 billion) on subsidy given to fertiliser companies," said Prashant Bhushan, counsel for the NGO.
The case will next be heard on November 14.