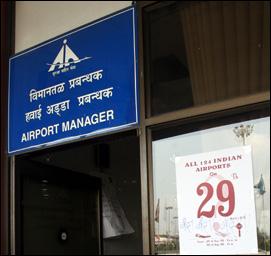 The nationwide strike called by over 50 million workers from banks, insurance sector, PSUs, post, etc, and nearly 20,000 airports employees that began on Thursday has disrupted banking and air services and affecting normal life across the country.
The 12-hour strike called by Airports Authority Employees Joint Forum started at 0700 hours and will end at 1900 hours. Late Wednesday night, the forum had scaled down the 24-hour strike to 12 hours.
Several international and domestic flights took off from Delhi before the strike began. However, during the first 40 minutes of the strike, only two flights took off, including one of Air-India.
The contingency plan prepared to meet the situation arising out of the strike was already in place including deployment of Air Force and naval personnel in different airports across the country, including Delhi and Mumbai.
Demonstrations by the airport employees have been continuing throughout the night at the Indira Gandhi International airport in New Delhi.
The All India general secretary of the Airports Authority Employees Union M K Doshal said the response to the agitation was "overwhelming".
In Delhi at least 50 planes either take off or land in an hour's time, but once the strike was enforced it came down to two or three he claimed.
He alleged that as part of the contingency plan even "untrained" people were deployed for carrying out flight operations.
"I advise passengers not to board flights during the period of the strike. I fear for their life," Doshal said.
Hundreds of police personnel have been deployed in and around the Delhi airport premises.
West Bengal paralysed
The countrywide general strike, which began on Thursday morning, has paralysed normal life in West Bengal.
Roads in the city wore a deserted look with vehicular traffic going off.
Trains services on the Eastern and South Eastern Railway were crippled due to squatting by bandh supporters at different places.
There was no movement of air traffic from the NSC Bose airport here. Director of Airport Authority of India P K Monga said that no flight had operated from the airport since morning.
IGP (law and order) Raj Kanojia said there was no movement of traffic on the road and shops were closed. He said there was no report of any untoward incident till 8 am.
The bandh was called by Leftist trade unions and other organisations to protest the 'anti-people' policies of the UPA government.
Strike hits normal life in Kerala
The strike called by Left unions hit normal life in Kerala today. Bus services, including the state-run KSRTC, taxis and other modes of public transport are off the road, hitting the mobility of people seriously.
Initial reports said train services were not affected by the strike called to protest the economic reform policies of the government.
Business activity came to a virtual halt with shops remaining closed throughout the state and commercial vehicles keeping off the roads.
Essential services like water and power supplies were, however, not affected by the strike.
The Congress-led UDF government in the state has declared 'dies non' (no work, no pay) for its employees and teachers participating in the strike.
Chandigarh hit too
Transport services were disrupted in the city today as employees of state-owned Chandigarh Transport Undertaking joined the nation wide strike called by various trade unions.
The local bus service in the Union Territory, as well as services to neighbouring towns in Punjab and Haryana operated by the CTU, was suspended.
A CTU spokesman told PTI that its inter-state bus services to various states, including Delhi, Haryana, Punjab, Rajasthan and Jammu and Kashmir were suspended.
Power and water supply was normal whereas sanitation services were affected as sweepers of the municipal corporation failed to report for duty.
The employees are scheduled to hold a protest rally later in the day.
Confusion at Hyderabad airport
Total confusion and uncertainty prevailed over flight services at Hyderabad airport on Thursday morning as airport employees started a strike, in protest against the move to privatise Delhi and Mumbai airports.
Striking employees of Airports Authority were seen raising slogans against the 'anti-worker' policies of the government.
Over 200 employees out of a total strength of 435 at the airport are taking part in 12-hour long strike, sources said.
Private operators -- Jet Airways, Air Deccan and Air Sahara -- had on Wednesday itself announced cancellation of their flights.
However, according to Airport Authorities, efforts were on to enlist the services of Indian Air Force and CISF personnel to prevent total disruption of flight services.
Tamil Nadu normal
Normal life remained unaffected in Tamil Nadu in the morning as the nation-wide strike called by trade unions began on Thursday.
Flights leaving the city, both domestic and international, operated without any problem, airport sources said.
Three international flights bound for various destinations and all the six morning flights, including Indian Airlines, Jet Airways and Sahara Airlines flights to Delhi, in the domestic sector left as scheduled, they said.
The sources said Lufthansa Airlines flight to Frankfurt, Sahara Airlines to Colombo, and British Airways flight to London left for their destinations at 1.40 a.m., 3.40 a.m. and 3.15 a.m., respectively.
Security at the airport was been beefed up and the fire services at the airport was now being manned by Indian Air Force personnel. The state government has also provided some fire tenders and ambulances, the sources said.
Train and bus services were not affected till 9 a.m., though a section of the employees owing allegiance to central trade unions were participating in the strike.
Police have been deployed in large numbers in various parts of the city and elsewhere in the state, particularly at railway stations and bus depots.
No untoward incident has so far been reported from any part of the state, police said.
Tripura badly affected
The strike which began on Thursday morning paralysed normal life in Tripura. Roads in the city wore a deserted look with vehicular traffic coming to a halt.
There was no air traffic at the Agartala airport. Sources in Airport Authority of India said that no flight operated from the airport since morning.
There was no traffic on the road and shops were closed, police said, adding there was no report of any untoward incident till 9 a.m.
Banking in Karnataka badly hit
The day-long strike called by Left trade unions as part of the nationwide stir against the economic reform policies began on Thursday morning with the impact felt mostly in banks here.
Buses and private vehicles continued to ply as usual but autorickshaw services were hit. Karnataka State Road Transport Corporation and Bangalore Metropolitan Transport Corporation, which have Left controlled unions, were operating buses.
No official holiday has been declared for schools, but several of them chose not to function on Thursday.
Some private airlines have either rescheduled or cancelled flights operating out of the city. Units under the Indian Air Force training command have been kept as a standby to ensure normal operations, airport sources said.
A section of the Karnataka Government Employees has also called for a strike on Thursday but the state government has warned the employees against taking part in it, saying the Akhila Karnataka State Government Employees Federation which has given the strike call was not recognised by it.
Train services remained normal, Railway sources said. Essential services were also not affected by the strike.
Most factories in Gurgaon closed
Most factories and industrial units here remained closed on Thursday as their workers joined an all-India strike to protest the economic policies of the government.
Tension prevailed in some areas as trade union activists stopped the few workers who were going to their workplaces.
The agitators stopped vehicles at some places but traffic on the national highway was not disrupted, police sources said.
Banks, PSU offices closed in Meghalaya
Functioning of central government offices, banks and other financial institutions in Meghalaya was affected due to the day-long general strike called by Left trade unions in protest against economic reforms. However, work in state government offices was normal and vehicles were plying and shops opened.
Banking affected in Arunachal
Work in banks, insurance companies, postal department and telecom sector was affected in Arunachal Pradesh today due to the country-wide general strike called by Left trade unions.
Besides banks and insurance offices, employees of post offices and telecom offices also joined the strike, crippling their respective services.
Sikkim's banking, postal services hit
Banking, postal, insurance and telecommunication services were badly affected in Sikkim as employees of these departments all over the state joined the day-long All India General strike called by Left trade unions.
Chhattisgarh badly hit
The nationwide strike by the Left trade unions today to protest against the government's economic policies, crippled banking and insurance services in Chhattisgarh.
The government, on Wednesday, cautioned air travellers about possible disruptions in air services. "There is a possibility of disruption in services. Travellers must check their flights with airlines before travel," said Ajai Prasad, civil aviation secretary.
Civil Aviation Minister Praful Patel on Wednesday said flights would not be affected as the ministry had organised back-up facilities. The Airports Authority of India has sought the help of the Indian Air Force, the Navy and other government agencies to maintain normal operations at airports.
Air India said all its flights-except two flights to London on Thursday and Friday-would run on schedule. The passengers of the two affected flights, one each from New Delhi and Mumbai, will be accommodated in other West-bound flights. The company will run 65 flights on next two days.
Jet Airways has rescheduled, combined or curtailed some of its flights. "All efforts have been made to provide connectivity in all sectors, except in the east. The airlines has cancelled all its flights to and from Kolkata and those in the North-Eastern sector," said the airlines in a statement.
Indian Airlines and Air Sahara too have cancelled some of their services to Kolkata and have merged flights on other sectors in view of the anticipated reduction in traffic. Airlines have said in such situations, about 20 to 30 per cent of tickets are cancelled.
Air Sahara has cancelled its 19 flights to and from Kolkata on Thursday. "Even in busy sectors like Delhi-Mumbai, we are merging some flights," said an Air Sahara spokesperson.
Kingfisher Airlines has cancelled some of its flights. Said Vijay Mallya, chairman and managing director, Kingfisher Airlines: "On an average, 25 per cent of Kingfisher Airlines flights operating on September 29 have been cancelled."
International airlines are also rescheduling their flights to reduce the impact of the strike.
An official spokesman said, "Some employees manning vital services like the air traffic controllers have said they will not join. We hope to maintain normal operations."
But AAI Employees Union general secretary, M K Ghosal, said the vast majority of airport workers would heed the strike call. "You can imagine the impact, when 20,000 out of the 22,000 workers go on strike," he said.
In the financial sector, trade union members employed with Reserve Bank of India, state, private, co-operative and rural banks will stay away from work for a day.
The sponsoring committee has said its 100,000 members will go on strike to secure its pending demands, including opposition to privatisation policies of the central government.
Life Insurance Corporation employees are also likely to join the strike. The employees are protesting against what they say are anti-worker economic policies such as privatisation, allowing foreign direct investment in the pension and other key sectors.
Cheque clearing operations are most likely to get affected. The Reserve Bank of India said it will assess the situation and, by the afternoon, decide whether to postpone clearing for the day to Friday.
All-India Bank Employees' Association general secretary C H Venkatachalam said the unions disagree with Finance Minister P Chidambaram's comments that banks should merge to take on global competition. The strike would be near-total with more than 95 per cent of the 1.3 million bank and insurance employees participating, he said.
(Above) The Mumbai airport wore a near-deserted look on Thursday following the 12-hour strike call given by airport employees participating in the nationwide bandh against the government's 'anti-people' policies.
Photograph: Jewella C Miranda
Additional inputs from Business Standard.