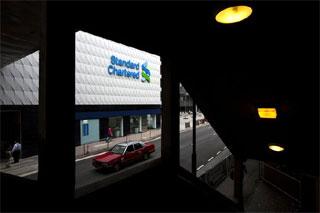 Standard Chartered is closing the bulk of its global equities business and axing 4,000 retail banking jobs as Peter Sands moves to aggressively cut costs to reverse the Asia-focused bank's fortunes, according to a memo seen by Reuters.
As part of a cost-cutting plan, the bank is now dismantling its stock broking, equity research, and equity listing desks worldwide, cutting around 200 jobs and exiting a business that it views as non-core and unprofitable.
That is expected to save the bank around $100 million in 2016, while the memo said the lay-offs at its retail banking division will save $200 million in 2015.
The cuts come after rating agency Standard & Poor's hit the London-based bank with its first ever credit rating downgrade in November following three profit warnings in less than 12 months and rising losses from bad loans.
Sands, who had achieved a decade of record profits up until 2013, is now under pressure from shareholders to turn Standard Chartered around and has promised to deliver $400 million of savings already in 2015.
"They announced the cost-saving plan last year and today they are carrying out the action. This would certainly help improve the bank's profits," said Steven Chan, an analyst at Maybank Kim Eng Securities in Hong Kong.
Locked out
Bankers in Standard Chartered's equities division in Hong Kong arrived on Thursday to find they were locked out of the office, while some in Singapore were escorted from their workplaces.
"We came in this morning and were told the equity business was being shut down," a woman who identified herself as an ex-employee at the bank's offices in Singapore's business district told Reuters.
She said she had worked in research and had been with the bank for three years.
The decision to exit equities marks a reversal in strategy for the bank, which had been hiring staff in the division as recently as October last year.
Standard Chartered would be one of the first global banks to completely exit the equity capital markets business, which involves underwriting stock offerings for companies.
The move comes despite a boom in equity underwritings in Asia that saw fees for the industry rise 74 per cent in 2014 after a three-year decline.
Standard Chartered launched its equities business in November 2008 when it acquired brokerage Cazenove from J P Morgan. It has struggled to make headway in the business, failing to rank among the top ten banks globally for research or trading at the end of 2013, according to a survey by Greenwich Associates.
The memo said that the bank would though retain its equity derivatives business as well as its convertible bond and macro economic research units.
With additional inputs from our correspondent in Mumbai
Additional reporting by Saeed Azhar and Rujun Shen in Singapore, and by Denny Thomas and Alice Du in Hong Kong
How to cope with layoffs
Achche Din or not, people are being laid off. Layoffs can happen anytime. To anybody.
If you have been laid off and coped with it well, we would like to know the lessons you learnt and what it takes to emerge successful.
Please mail your responses to getahead@rediff.co.in (Subject line: Layoffs) to help those who have been laid off or could face layoffs in the weeks to come.
MUST READ: Surviving Layoffs