As outgoing chairman A M Naik sets new goals for L&T, he leaves the task of fulfilling them to his successor, says Amritha Pillay.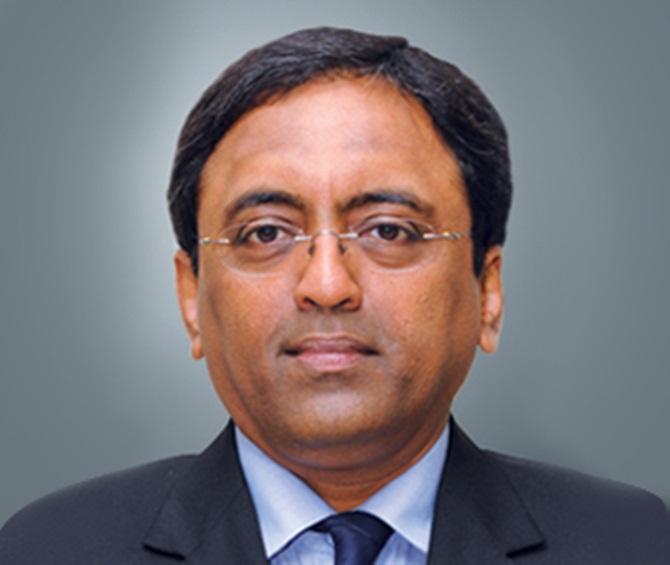 IMAGE: Subrahmanyan is known as someone who has the ability and motivation to commit long hours to work. Photograph kind courtesy:L&T
SN Subrahmanyan is known to be a fitness enthusiast and loves taking long walks.

Come October 2017, Subrahmanyan's walks in the Powai campus would be in bigger boots.
The civil engineer, whom A M Naik finally picked as his successor at the 71st annual general meeting (AGM) last week, has very large shoes to fill and ambitious targets to meet.
Naik, the executive chairman of L&T, has set a goal of more than doubling the company's revenues over the next five years.
This means Subrahmanyan, currently deputy managing director and president of L&T and set to succeed Naik next year, will have to summon all his skills to grow the company and steer it towards its new goal.
Subrahmanyan's selection is no coincidence. Naik had first spotted Subrahmanyan almost a decade ago when he was associated with the Hyderabad airport project for which L&T was a contractor.
Naik has been preparing Subrahmanyan for his next appointment ever since then.
Subrahmanyan's expertise in the infrastructure and construction business, the largest revenue generator for L&T, played a big role in tilting the scales in his favour.
In his three decades at L&T, Subrahmanyan has driven many of the company's large infrastructure and construction projects, including the construction of the airports at Bengaluru, Hyderabad, Delhi and Mumbai. He also oversaw major international projects, including the Metro systems in Qatar and Saudi Arabia.
"He has come up with the core business and has worked on the ground. He is also someone who contributes well to discussions," says MM Chitale, an independent director on L&T's board.
Currently, Subrahmanyan (or SNS as he is called within the company) is on an overseas business trip with Naik.
While it is not clear what role Naik will assume at L&T after September next year(when he hands over charge), Subrahmanyan has slowly started to emerge from his shadows.
Chitale says Subrahmanyan has been spending a great deal of time grooming a second line of command to take charge after his elevation.
The civil engineer is known to be both result oriented and impatient.
He is also known as someone who has the ability and the motivation to commit long hours to work.
One can frequently spot him at some of the main airports in India which he himself assisted to build.
Subrahmanyan, was elevated to being the company's deputy managing director and president last year.
Prior to the elevation, he was senior executive vice-president for the company's infrastructure and construction division, which contributes close to 74 per cent of L&T's total outstanding orderbook of Rs 2.57 lakh crore as of June 2016.
Though Naik chose the company's 71st AGM to officially announce his appointment as the next executive chairman, he has been hinting at this move for some time.
In May 2016, Naik called Subrahmanyan the "number two" man in the company.
In the last two years, the shift of power has been evident at the company's press briefings, with Subrahmanyan turning into the face of the company at such interactions.
Subrahmanyan's tag as an insider makes him the perfect choice for Naik to hand over command to.
He has lived up to Naik's expectations so far.
Of his 32 years at L&T, Subrahmanyan has spent five years heading the infrastructure and construction division. Since 2010-2011, infrastructure division's contribution to the company's total order book has increased from 36 per cent to 75 per cent.
Yet, there are challenges. The last two financial years have seen the company revise its revenue and order inflow guidance primarily due to slow recovery in the infrastructure sector.
Naik at the AGM last week set an ambitious target of achieving Rs 2 lakh crore of revenues and order inflows of more than Rs 2.5 lakh crore annually by 2021.
For the financial year 2015-2016, the company saw order inflows of Rs 1.36 lakh crore and net revenue from operations were at Rs 1.02 lakh crore.
Analysts say it will not be an easy task for Subrahmanyan to achieve these targets.
For instance, L&T's Hyderabad metro rail project is facing delays and the Kattupalli ship building facility is yet to pay off.
The ship building facility's success would depend on defence orders which are likely to take longer to fructify.
Its foray in the hydrocarbon business also remains a challenge, given the volatile crude price scenario.
But Naik is confident L&T's future is in safe hands.
"This is a very strong man here, you know," he said in response to shareholders' request to stay on beyond his planned retirement at the end of September 2017.