Its new industrial policy appears to benefit industrial houses

Dark clouds hover over Maharashtra's ambitious target of creating more than five million jobs through special economic zones (SEZs). The plan to attract investments worth Rs 1,00,000 crore in the state's 201 SEZs through export-oriented industries is set to be severely undermined by its latest industrial policy.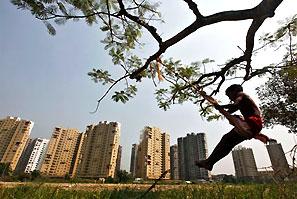 The policy, already controversial, permits substantial commercial and residential development on SEZ land acquired from farmers for industrial purpose. This apart, it does not aid state-owned SEZs, many of which are struggling to take off.

The state government passed an amendment to the Maharashtra Industrial Development Corporation Act, 1961, during the monsoon session, in July. It introduced the concept of Integrated Industrial Areas (IIAs) to replace SEZs. It opened lucrative land areas around cities for residential and commercial purposes, prompting the Nationalist Congress Party, partner in the state government, to mockingly term the industrial policy as "housing policy".

"The policy appears to benefit big industrial houses, like Reliance, which has an SEZ in Navi Mumbai that never took off," Bharatiya Janata Party (BJP) member of legislative Assembly (MLA) Devendra Fadnavis had said in the Assembly. "It wants to put that land into commercial and residential use. Promoters will now only develop the 40 per cent commercial and residential land and not take up substantial industrial activity."

State Industries Minister Narayan Rane had denied the charge, saying the policy applies to only 9,000 hectares of private SEZs, which are in limbo. The minister, however, did not explain how the department would meet the SEZs' job and investment goals.

An assessment by the state government's Directorate of Industries in November 2012 shows there were 124 approved, 64 notified and only 17 executed SEZs in the state. Operational SEZs created 850,000 jobs. Approved and notified ones promised 7.72 million jobs. Operational SEZs accounted for an investment of Rs 10,836 crore. The investment potential of Rs 221,267 crore (Rs 2,212.67 billion) through approved and notified SEZs was only on paper. Clearly, the situation has not changed much.

According to the 2012-13 annual report of the Ministry of Commerce and Industry, by February this year, the number of approved SEZs in the state had reduced to 118. The number of notified SEZs was unchanged at 64, while that of operational ones rose marginally to 19.

The policy states IIA was introduced because of SEZ's poor performance. Principal Secretary (Industry) Apurva Chandra told Down To Earth, "The new policy makes more land available for industry. While SEZs had 50 per cent minimum land requirement for industry earlier, we have made it 60 per cent for IIAs."

The SEZ rules mandated "minimum 50 per cent area shall be earmarked for processing zone" and where applicable, an additional "20 per cent for free trade and warehousing zone". The new industrial policy mandates "minimum 60 per cent of total area for industrial development" and 40 per cent for support activities, including "residential and commercial development". Generous reservations have been made for commercial and residential sector in IIAs as compared to the earlier SEZ rules.

Yet, the new concept is yet to find any takers. So far, only Bharat Forge-MIDC SEZ in Khed, near Pune, has applied for converting to IIA. MIDC's chief executive officer Bhushan Gagrani said all non-functional MIDC SEZs are sticking to "status quo". "More will start coming," said Chandra.

"We are interested in manufacturing and exports, not in real estate. So we will develop the SEZ as well as a free trade and warehousing zone," said Vijay Kalantri, chairperson and managing director of Balaji Infra Projects Limited, which is developing India's first SEZ port at Dighi in Raigad district.

On August 12, the commerce ministry amended the SEZ rules, further relaxing norms, apparently to provide more incentives to the developers. Those campaigning against SEZs see no justification for this.

Sampat Kale of Tata Institute of Social Sciences, Tuljapur, who has written research papers on the anti-SEZ movement and participated in such activities, said, "At Sinnar in Aurangabad and many other places in Maharashtra, farmers are still resisting SEZs. Issues of forcible land acquisition and poor compensation persist. Instead of giving the land away for real estate, it should be returned to farmers."
Click NEXT to read on . . .