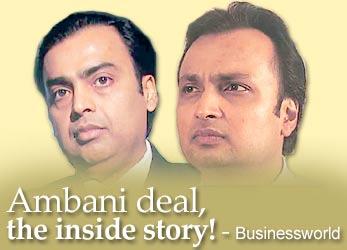 Saurabh Shukla couldn't help but notice the sudden closure of the green, blue and white Reliance Infocomm customer service centre last week.
Like hundreds of executives who work out of the Kamla Mill Complex, a sprawling office complex in mid-town Mumbai, the 40-year-old advertising executive was familiar with the bustling service centre, where some of his colleagues paid their telephone bills even till last month.
But all of a sudden, the centre has been shuttered and the 80-odd service agents who worked there have been shifted to another location in uptown Mumbai -- at just a two-week notice.
Shukla may not know it, but there's a good reason for the hurry: the building where the centre was located belongs to Anand Jain. A trusted family friend, Jain was the person whom Reliance vice chairman Anil Ambani had targeted in his media campaign, accusing him of creating a rift between him and his brother, Reliance chairman Mukesh.
This may be a small sideshow in the larger-than-life battle between the Ambani brothers. But yet again, it is evidence that a settlement between the two is now imminent.
As Businessworld reported recently, Anil is all set to take charge of Reliance Infocomm. He has already begun sounding out senior telecom executives in the industry to be a part of his new-look team.
How the possible settlement will work
Step 1: Split the Ambani family stake in RIL in the 30:30:40 ratio among the two brothers and Kokilaben. Anil Ambani to relinquish control to Mukesh, who gets full control of Reliance Industries' core oil and gas business.
Step 2: Create a special purpose vehicle to house RIL's stake in Reliance Energy and Reliance Capital. Anil Ambani to continue heading the two firms.
Step 3: In lieu of Anil giving up control in RIL, Mukesh Ambani transfers part of his 45% stake in Infocomm to Anil, who now gets to run the venture.
But before the younger Ambani moves onto his brother's turf, a big clean-up exercise is on to quickly remove any embarrassing linkages. The closure of the Kamla Mill service centre is one such.
For more than a month now, Mukesh's confidants, Manoj Modi and Anand Jain, have both vacated their second floor offices in 'I' Block at the Dhirubhai Ambani Knowledge Centre (DAKC) in Navi Mumbai and moved to the Reliance Industries headquarters in Maker Chamber IV.
Even as the final settlement is awaited, there is now endless speculation on how the Ambanis will carve up the sprawling Rs 99,000-crore (Rs 990 billion) empire. It is certain that Mukesh will control the flagship Reliance Industries (RIL), while Anil gets to run Reliance Energy, Reliance Capital and also own Reliance Infocomm.
But while the broad division of assets now seems somewhat clear, the intricate details of how the complex deal will be spun are still cloaked in secrecy. And that's the real story.
After all, as they say, the devil's in the detail. Businessworld spoke to a range of Reliance employees, analysts, corporate lawyers and chartered accountants to piece together a sketch of how the complex deal can be struck.
One finding that emerged straightaway from these detailed conversations is that a clear division of assets, as suggested in media reports (especially of the investments that RIL holds in Reliance Energy and Reliance Capital, or even a split in RIL) is ruled out.
Instead, ICICI Bank CEO K V Kamath, who is advising the Ambani family, is likely to recommend a simple, transparent way -- as opposed to a strategic sale -- to define control and ownership for the two brothers.
In other words, he will choose a path that will be easy for the Reliance group to sell to shareholders, regulators and the investing public at large.
Before getting into how that can be done, let's explore the reasons why an actual division of assets is so tricky.
One, the flagship Reliance Industries' competitive advantage comes from its vertically integrated structure. So, unless the synergies of upstream oil exploration and downstream petrochemicals business continue to exist, RIL's future is threatened.
Besides, splitting RIL could seriously affect investor confidence in the Reliance group. "RIL is India's largest publicly listed company. They cannot split it according to their whims and fancies," asserts an equity analyst at a foreign broking house.
Two, hiving off RIL's investments in two companies -- 43.68 per cent in Reliance Energy (REL) and 47.20 per cent in Reliance Capital (RCL) to Anil -- is equally difficult. Even the Reliance group companies issued a denial to that effect to the stock exchanges last week.
The reason is simple: if RIL were to sell its stake in REL and RCL, at present valuations, the buyer would have to cough up nearly Rs 8,000 crore (Rs 80 billion) in cash to buy that stake.
Further, according to the existing rules of the Securities and Exchange Board of India, the buyer would also have to make an open offer to buy a further 20 per cent stake in the two companies at an additional cost of Rs 4,000 crore (Rs 40 billion). Raising such large amounts of cash is out of the question.
Even if the Ambanis were in a position to do so, it would immediately alert the taxman. That also explains why Mukesh cannot buy out Anil's stake in RIL, which would need similar amounts of cash.
Finally, cutting off the umbilical cord that connects Reliance Energy to RIL could prove detrimental. Energy is a huge growth avenue for the group, but it would continue to require investment from RIL's huge cash flows.
So how do you then carry out a separation that is equitable to both parties? Any division of the empire could be equitable if it is based on two important parameters: total free cash flows and market valuation.
At nearly Rs 11,777 crore (Rs 117.77 billion) a year, RIL accounts for more than 70 per cent of the free cash flows of the group. It also contributes 86 per cent of the group's market valuation.
Apart from the huge pitfalls involved in splitting Reliance Industries, there's one good reason why the Ambani family would be loath to give up ownership of their 34 per cent stake in RIL. Every year, RIL gives them a tax-free dividend of Rs 250 crore (Rs 2.5 billion).
So far, the Ambani family's stake in Reliance is held through a web of over 400 investment companies, whose ownership is not clearly defined. As the head of the family, Mukesh Ambani exercises control over these companies and the dividend income goes into a family pool account from which expenses are drawn.
The brothers have been withdrawing from the pool based on an unwritten understanding between them.
As the brothers and their wives seek to run their families separately, Kamath is likely to propose that the ownership now be properly defined. That means splitting the family's stake proportionately, so that each of them receives his share of the dividend.
Just as Businessworld had reported in its cover story, Showdown At Maker IV (10 January, 2005 ), the formula is likely to be 30:30:40.
In other words, 30 per cent of the dividend will go to Mukesh, 30 per cent to Anil, and 40 per cent to their mother Kokilaben. Ten per cent of the mother's share could, in turn, be split between the two Ambani daughters. After her death, her 30 per cent share would be divided between Anil and Mukesh.
But while ownership may rest with the family, Mukesh will be allowed full control of the family's stake. Anil and the rest of the family will sign away their voting rights in favour of Mukesh.
At current market prices, Anil's 10.2 per cent stake in RIL would be worth about Rs 7,500 crore (Rs 75 billion).
So what does Anil gain from the deal? How should he be compensated for giving up control of RIL?
There are two possible approaches. As explained earlier, there is little scope to delink RIL's stake in REL and RCL. Instead, Anil is likely to be given full operational control of the companies that he has run in the past.
According to insiders as well as merchant bankers, RIL will have a new holding structure: it will create a special purpose vehicle (SPV) in the form of a wholly owned subsidiary company, which will hold the investments in REL and RCL.
As a representative of RIL, Anil will get to control the board of the SPV and run the two companies independently. To compensate Anil for relinquishing control of RIL, Mukesh will let go of his pet project, Reliance Infocomm.
As an unlisted company, it is easier to transfer stake without regulators raising questions. Of course, inside DAKC, Infocomm employees are still coming to terms with Mukesh's decision to hand over control of his pet project. "Obviously, he has chosen his head over his heart," says a senior Reliance employee.
Earlier, global investment bank Merrill Lynch had valued Infocomm at $13.7 billion (approximately Rs 58,000 crore).
Even though Mukesh owns 45 per cent of Infocomm, it is believed that the stake was bought using the family's funds. Anil had contested that half of Mukesh's share should effectively belong to him. If Mukesh finally accepts that contention, he could hand over part of his own 22.5 per cent stake over and above Anil's 22.5 per cent to give his brother control of Reliance Infocomm.
If Mukesh's full stake is transferred, it would mean that he pays a 'control premium' of Rs 13,500 crore (Rs 135 billion).
Whatever be the final settlement, in the end, it will be small price to pay for bringing the curtain down on one of the most acrimonious family feuds in Indian corporate history.
Photographs:
Reliance Chairman Mukesh Ambani. Sanjit Kundu
Reliance Vice Chairman Anil Ambani. Ravi Patil
Headline image design: Rahil Shaikh
Powered by