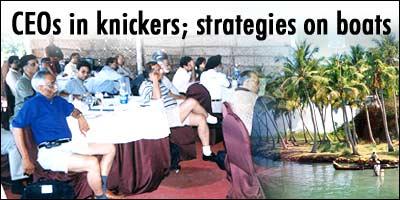 Increasingly, more and more head honchos of Indian companies are venturing out. In more ways than one.
They are no longer confined to five-star hotels for nerve-wracking strategic sessions on future ventures, investments and growth. These high-profile chief executives are making a beeline for the backwaters, hill stations and islands of Kerala to hold round-table conferences in houseboats, under coconut trees and even in makeshift tents.
After the tremendous success of the Kerala Travel Mart, from September 29 to October 2, the state tourism department is gearing up to position Kerala as India's finest destination for what officials call 'CEO tourism.' The third Kerala Travel Mart saw some 650 participants from Europe, the United States, Britain, Japan, China and the Middle East flying down to attend.
"We want CEOs from foreign countries to come here, hold business meetings and discussions in houseboats and on secluded islands. A number of Indian CEOs and companies are already coming here for working vacations," Kerala Tourism Minister K C Venugopal told rediff.com.
He says the state government is now positioning Kerala as a MICE (meetings, incentives, conventions and exhibitions) destination.
The tourism department will soon launch an advertising campaign to highlight the 'refreshing conferencing possibilities' that Kerala has to offer.
Already, tourism officials and travel executives say the new model of 'CEO tourism' is attracting a large number of businessmen, multi-national companies and corporate executives to Kerala, away from the hustle-bustle of city life.
Laptop-wielding Indian CEOs in knickers holding round table conferences in houseboats and in makeshift tents are becoming a regular sight across Kerala.
The new craze actually began two years ago. Then, a team of 200 top executives of Microsoft Corporation's Asia-Pacific region and some of the firm's US-based senior officials flew down to Kerala to hold the annual clients meeting.
In between their tight business schedules at Kochi, some Microsoft executives went on backwater trips, while others drove up to hill stations to take a break. Some of them underwent Ayurvedic massages, while others joined local fishermen in fishing, making use of Chinese nets.
Ever since the Microsoft meet, travel operators say there has been getting increase in the number of Indian CEOs making a beeline for Kerala's backwaters.
To cash in on CEO tourism, Pulikattil Houseboats, a houseboat operator in Alappuzha has recently launched 'Palace on Waves,' a double-decked floatel (floating hotel).
The houseboat can accommodate 250 people in its conference-cum-dining hall on the upper deck. It has all the facilities of a modern conference hall. The lower deck accommodates four air-conditioned double rooms named -- Ganga, Yamuna, Narmada and Kaveri -- and a sit-out. A kitchen on the end of the hall serves desi food.
Tomy Pulikattil, owner of the houseboat, says top managers of a number of Indian companies have been to his floating conference facility. These firms include Larsen & Toubro, Siemens, Godrej, Micromatic, Batliboi, MICO, ACE and BFW.
"We are getting lots of enquiries from IT companies from Bangalore and Chennai for their meetings on houseboats. Indian CEOs want to do business in pleasant and salubrious settings. We offer those settings here," Pulikattil said.
Big hotel chains like the Taj Group are also cashing in on the CEO tourism. The Taj, which is developing some of the finest tourist hotels in Kerala, has bought a seven-acre island in the Kochi backwaters to cater to the CEO tourism.
Thus, the Gundu island, surrounded by coconut trees, is a high-profile corporate venue these days. The Taj has developed 20 per cent of the island to create a village like ambience, while the remaining 80 per cent is nearly virgin jungle.
These CEOs never wear suits and ties when they come down to the corporate strategy sessions at islands like Gundu. Most of them are in knickers, holding laptops and palm tops. Food and water are ferried to them. In the evenings, most of them are in houseboats, called kettuvallams, or village boats, called kadathuvallams.
If you see the neighbourhood CEO more relaxed these days, it's probably he's just come back from a conference in God's Own Country.