Five matches of the first three days of the World Cup aired on Sony Six and Sony Aath reached 14.8 mn Indian viewers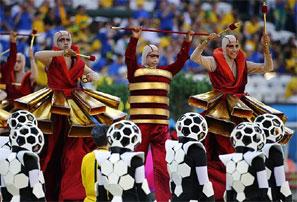 In football crazy West Bengal, jails are allowing prisoners to watch the FIFA World Cup 2014 on Sony Six and Sony Aath every night.

Football has caught on in the rest of the country as well. The five matches of the first three days of the tournament aired on Multi Screen Media's (MSM's) premium sports channel Sony Six in English and regional channel Sony Aath in Bengali reached 14.8 million Indian viewers. The bulk of the audience, around 11.8 million, watched the first match of the day in Brazil from 9.30 pm. Viewers on the Bengali channel were 3.1 million, a fifth of the total.

The 2010 World Cup had reached 24 million Indian viewers with its opening five matches. Those matches were played in South Africa and started at 4.30 am in India. The matches in Brazil begin at 9.30 pm and end at 5.30 am, Indian time.

Compared to cricket the viewership is still small, the recently concluded Indian Premier League, also telecast on MSM's channels Sony Max, Sony Six and Sony Six HD, reached 105 million viewers with its first six matches. However, this is the IPL's seventh season on the network and the tournament has established itself as a mature property on Indian television.

According to TAM data provided by a sports broadcaster, World Cup 2010, aired on the erstwhile ESPN-Star Sports network, had a viewership of 1,531 TVTs (television viewership in thousands), significantly higher than the 1,018 TVTs for the 2006
World Cup. The 2010 World Cup reached 62.7 million viewers in India for all the matches.
MSM's decision to telecast the 2014 World Cup in Bengali and not Hindi helped the network tap into the football frenzy of West Bengal. Sony Aath has ratings of 306 TVTs and Sony Six 416 TVTs. The total viewership for the first five matches in West Bengal was 732 TVTs.
The parallel coverage on Sony Aath has helped the numbers grow in West Bengal with a 5 per cent rise in territories with more than 1 million population and a 19 per cent rise in territories with population between 100,000 and 1 million. Kolkata emerged as the strongest market in the country, with an average rating of 592 TVTs for all the five matches and 972 TVTs for the 9:30 pm matches across both channels. In terms of reach, the Bengali feed has contributed to the tournament's reach climbing 8 per cent in Kolkata and 25 per cent in the rest of the state. Across India, Sony Six and Sony Aath clocked a combined viewership of 1,300 TVTs.
This is a good start, considering the 2010 World Cup had average TVTs of 1,530. "The ratings on Sony Aath and for West Bengal are very good. The overall ratings for the first five matches have been on expected lines. This will only rise in coming weeks as the matches get more interesting and the late night spots also see increased viewership," said Rohit Gupta, president of MSM.
It said growth had been significant in non-metro towns. Towns with population over 1 million and those with population between 100,000 and 1 million tuned in with the latter registering a 6 per cent growth in viewership from the 2010 World Cup.