Unprecedented rains and floods in the northern region in the past few days have not only caused extensive damage to lives and property but have also impacted business and commercial establishments.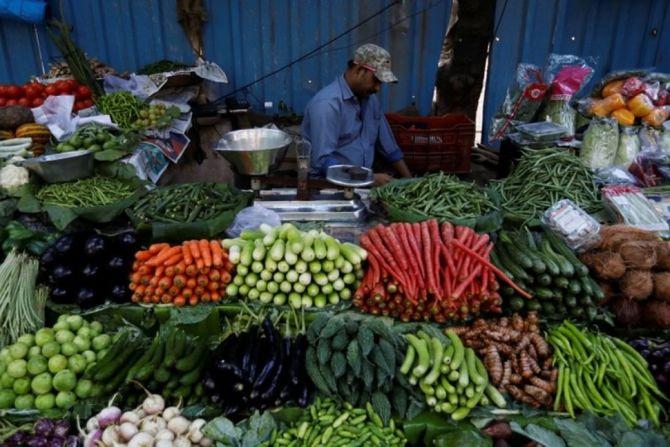 Vegetable prices have gone through the roof in the national capital and many other parts of the country since rains started pouring earlier this month.
Traders say vegetable prices would come down only after roads open and skies clear, even as water in the fields will take time to recede.
"Most of the standing vegetable crops in Delhi and its adjoining areas are submerged in water, pushing up prices.
"Supplies are also not coming from neighboring towns such as Sonipat and Panipat.
"In some cases, truck drivers are forced to sell their goods in local markets because of heavy rains," Anil Malhotra, former member of the Azadpur APMC and chairman of the Vegetable Traders Association, told Business Standard.
He said that while only tomato prices were high earlier, in the last few days wholesale prices of almost all vegetables had shot up.
The spike in vegetable prices and damage to other standing crops could have an impact on retail food inflation, which eased to a eighteen-month low of 2.91 per cent in May.
"The price rise in vegetables is due to unseasonal rains, crop damage, and problems that growers face in the supply chain.
"If prices don't come down, it could lead to higher inflation rates for July.
"Higher inflation could lead to reduced purchasing power, affecting consumer spending patterns, and may lead to a tighter monetary policy," Tushar Trivedi, head of farm business at Nurture.farm, a digital agtech platform offering farm services, agri-input commerce, market linkages and farm advisory, told Business Standard.
Shailendra Singh, MD and founder, Creduce, a start-up working towards a low-carbon economy, said household spending would decrease if vegetable costs rise abnormally.
A recent survey by Local circles showed that around 75 per cent of the respondents had reduced consumption of tomatoes.
A Crisil analysis found that pulses inflation could move northwards for another six to seven months due to uneven rains impacting sowing.
The Soybean Processors Association of India said there could be some drop in the crop acreage in major growing states as compared to last year due to the delayed onset of monsoon and a shift towards other crops.
Big businesses have not remained untouched by monsoon rains either.
A spokesperson for Hindustan Unilever said there had been a minor impact on its manufacturing units in Himachal Pradesh due to restricted vehicular movement owing to torrential rains.
"We are taking all necessary measures to protect our employees, support staff, distributors and partners.
"We are also working closely with the authorities to ensure that there is a continuous supply of essential goods in the affected locations," the spokesperson said.
Vimal Pande, CEO at Vi-John Group, which houses the country's largest shaving cream brand, Vi-John, however, said its plant in Baddi (HP) was running fine and there had been no impact on its operations.
Pharma industry sources said there had been no major disruption in terms of production in North Indian states hit by floods.
"During Covid-19, plants functioned with even 35 per cent workforce.
"While there are some issues with people travelling etc, production has not stopped.
"All plants carry inventory of raw materials for at least a month," a source said.
Tata Motors said there was no issue around their plant at Pantnagar (Uttarakhand), but the company was monitoring the situation closely.
The India Meteorological Department said there would be a significant reduction in rainfall in Punjab, Haryana Chandigarh, western Uttar Pradesh, and Uttarakhand from Tuesday onwards.
(With inputs from Sanjeeb Mukherjee, Sohini Das and Sharleen Dsouza)