'The funds were arranged from multiple banks at a very competitive rate and converted into dollars at the best rates.'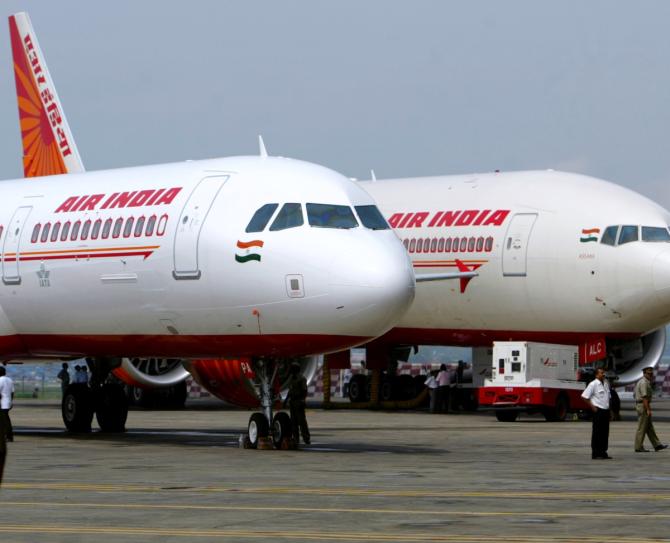 Air India has sealed a $70 billion deal (at list price) to acquire 470 aircraft from Airbus and Boeing.
While the mega orders were announced in February, formal purchase agreements were signed at the air show in Paris last month.
The signing will pave the way for deliveries to start over the next few months.
This will include the Airbus A350 aircraft, while the bulk of the order will be delivered from mid-2025 onwards, the airline said.
At present, Air India has 122 aircraft and is also leasing a total of 36 Airbus A320 neo and the Boeing 777 aircraft for expansion.
The aircraft manufacturers will also help Air India with a raft of solutions, including parts and maintenance provisioning, digital applications, and modification services.
Air India's 470 aircraft order was the largest single order in civil aviation history, but the record was broken in four months by IndiGo with its 500 aircraft order.
Air India's order is split between Airbus and Boeing and comprises both narrow-body and wide-body planes.
From Airbus, Air India has ordered 40 wide-body A350 and 210 narrow-body A320neo family aircraft.
The Boeing order comprises 10 wide-body B777X, 20 wide-body B787, and 190 narrow-body B737 MAX planes.
Along with the firm commitment of 470 aircraft, Air India also has the option to acquire another 370 planes from Airbus and Boeing.
The option enables an airline to purchase aircraft in the future at an agreed-upon price and has to be exercised so that the plane makers can build them.
Air India's announcement only covers the firm commitment to 470 aircraft.
N Chandrasekaran, chairman of Tata Sons and Air India, said the landmark order will further position Air India for long-term growth and success.
'Our ambitious fleet renewal and expansion programme will see Air India operate the most advanced and fuel-efficient aircraft across our route network within five years,' Campbell Wilson, CEO and managing director, Air India, said.
'We are proud that the efficiencies, comfort, and range capability offered by our latest generation aircraft will contribute to the process, as Air India reclaims its rightful position as a world-class premium carrier,' said Christian Scherer, chief commercial officer and head of International at Airbus.
'The Airbus services package is a perfect future-oriented choice that will form a core element of Air India's transformation,' Scherer added.
'The fuel-efficient mix of next-generation aircraft, including the 737 MAX, 787 Dreamliner, and the 777X, will sustainably power Air India's future fleet in the world's fastest-growing commercial aviation market,' said Stan Deal, president and CEO, Boeing Commercial Airplane.
The signing of the purchase agreement comes within weeks of Air India arranging funds to make pre-delivery payments for the aircraft.
In a message to staff, the airline's Chief Financial Officer Vinod Hejmadi said this was the largest deal in the history of Air India.
'The funds were arranged from multiple banks at a very competitive rate and converted into dollars at the best rates,' said Hejmadi.
Feature Presentation: Rajesh Alva/Rediff.com