The move is a show of faith from three of the world's biggest technology companies in fast-growing Snapdeal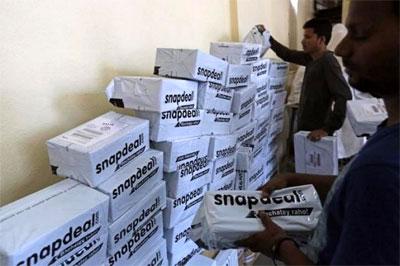 Indian online marketplace Snapdeal is set to raise $500 million from a group of foreign investors including China's Alibaba Group Holding Ltd, three people familiar with the matter said on Monday.
One of the people said the deal could be finalised within a few days at the earliest but may also take weeks.
The latest round of support, from investors also including SoftBank Group Corp and Foxconn, the trading name of Hon Hai Precision Industry Co Ltd, would value Snapdeal at more than $5 billion, another person said.
The people declined to be named as they were not authorised to discuss the matter.
The move is a show of faith from three of the world's biggest technology companies in fast-growing Snapdeal, which in October secured a $627 million investment from SoftBank, itself an early backer of Alibaba.
The deal also reflects strong growth in India's e-commerce sector, driven by affordable smartphones and internet connections. India is the world's third-biggest smartphone market and low-priced smartphones are top sellers.
Snapdeal, Japan's SoftBank, Alibaba and Foxconn declined comment.
The Indian firm competes with Flipkart Online Services Pvt Ltd and the local subsidiary of Amazon.com Inc in the country's online shopping market.
Fast growth
While India has fewer internet users than China, online sales could rise to more than $100 billion in 2020 from $2.9 billion in 2013, making it the fastest-growing market globally, according to a Morgan Stanley research report.
The deal will be Alibaba's first direct investment in India, although affiliate Ant Financial Services Group in February agreed to buy 25 percent of Indian payment services firm One97 Communications.
Online publication Re/code first reported the investment on Sunday, citing multiple sources and saying the deal had already concluded.
Alibaba was in direct funding talks with Snapdeal in March, but opted to instead invest together with SoftBank and Foxconn, the person familiar with the $500 million investment said.
Foxconn founder Terry Gou told shareholders at an annual meeting two months ago that India is a key market this year for his group.
Foreign money has been pouring into India's fast-growing e-commerce sector, with investors ranging from Qatar Investment Authority to Singapore's Temasek Holdings and GIC Private Ltd piling in.
The industry attracted $5 billion in 2014, according to Morgan Stanley.
SoftBank has also set lofty goals for investment in India, with Chief Executive Masayoshi Son saying it will invest about $10 billion in the country's e-commerce sector after it took a stake in Snapdeal in October last year.
Additional reporting by J R Wu in Taipei, with; Sumeet Chatterjee in Mumbai and Ritsuko Ando in Tokyo