Most cricket equipment used by well-known Indian players sport logos of big multi national companies (MNCs) who sponsor them.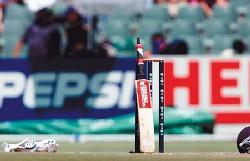 Even as many of these bats and accessories are made by smaller companies - especially by MSMEs in Jalandhar - these small and medium enterprises remain unknown as they lack funds to pay large sums to Indian cricketers as sponsorship fees.

To get round this, a few Jalandhar-based companies are now ready to promote their brands in the forthcoming World Cup and IPL-4 through overseas cricket players, whose endorsement fees are much lower than those of Indian players.

The two tournaments will see cricket bats and accessories of major players bearing the logos of Jalandhar companies like BAS and Ranson.

The manufacturers say that this branding exercise will help them in the long run. A few companies have already signed on some players, mostly from South Africa, West Indies, Sri Lanka, Kenya and Canada.

However, they are reluctant to divulge details, fearing that players will be poached by competitors.

R C Kohli, director of Beat All Sports (BAS), which has manufactured bats for Sachin Tendulkar, Saurav Ganguly, MS Dhoni and Harbhajan Singh, said, "About a dozen players, mainly from overseas, will sport the BAS brand in the cricket World Cup."

BAS has already tied up with players from South Africa, West Indies, and Canada. These include Hashim Amla and Robin Petersen of South Africa and Darren Sammy of the West Indies.

Indian companies say that many international brands that sponsor players procure bats from lesser known companies based out of Jalandhar or Meerut, but this fact never comes into the limelight.

"Many small companies do not have enough funds, as endorsement fees vary from lakhs to crore (Rs billion)s, depending upon the player. Big brands, therefore, have an advantage," said Raghunath S Rana, managing director of Aresson International (P) Ltd, which makes the Aresson and Ranson brands.

He added that in order to overcome the problem, "Besides endorsing international players for IPL-4, we are also planning to tap young talent from among the domestic players of India and other countries for branding purposes by offering free kits."

Rana, who is the chairman of the Sports Goods Manufacturers and Exporters Association, further added, "In England, South Africa, Australia, West Indies and New Zealand the cricket boards have made it mandatory for players to sport the logo of actual manufacturers and not sponsors that have nothing to do with manufacturing.

We expect the same kind of guidelines to be put in place in India, so that the actual manufacturer will benefit."

Manufacturers also argue that the government should focus on creating sports infrastructure.

The Managing Director of Rajhans International, Ashutosh Wadhwa, said the government should create proper sports infrastructure at the grassroots to boost the sports industry.

Jalandhar contributes 50-60 per cent of India's total sports goods exports, the rest being contributed by Meerut and other centres.

Last year the quantum of exports from Jalandhar were more than Rs 350 crore (Rs 3.5 billion). Jalandhar's Rs 600 crore (Rs 6 billion) sports goods industry constitutes 90 per cent of the sports goods sector in Punjab.

There are 400-450 sports goods manufacturing units in Jalandhar, which provide direct and indirect employment to 150,000 people.