The board of directors of SmartCity Kochi (SCK), a joint venture between SmartCity Dubai and the Kerala government, has approved the concept master plan of the project.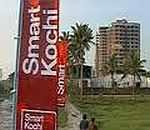 In a press release, the company has informed that the same would be forwarded to the SEZ Board for approval soon. Upon receiving the approval, the concept master plan has moved to its second stage, which will include the detailed components of the master plan. Accordingly, the second stage of the plan is expected to be completed by August 2012.

This stage includes final detailed master plan, environmental and sustainability study, urban design landscape guidelines, traffic impact study and plot development guidelines. The SCK team is expected to start operations on the sales pavilion from May 2012.

The pavilion has significantly progressed towards completion and is expected to be ready by the first week of May. The pavilion, which was initially planned on an area of 6,000 sft, will now be spread across a total built-up area of 10,900 sft.

It will be an enlarged pavilion with an innovative design and futuristic building –
a steel structure set within the natural terrain of the site. This will assist the marketing of the project to international and national stake holders.
It will house an open-planned office area, enclosed rooms and utilities for project and marketing operations, open reception area, marketing display area of the project along with meeting rooms and state of the art facilities.
Commenting on the special features of the pavilion, Jawad Suleiman, executive director (project development and planning), SmartCity Dubai, said, "The design is based on green building initiatives starting from the use of all materials, systems and building orientation. We have used double-glazed material for the building skin, which reduces glare and heat gain, thus providing a favorable work environment for the employees."
As planned, construction of Phase-I of the project will be completed between 18 and 24 months from the date of awarding the contract to the contractor. This time frame will include the testing and commissioning of the building systems, together with the landscaping and infrastructure around Phase-1, the release added.