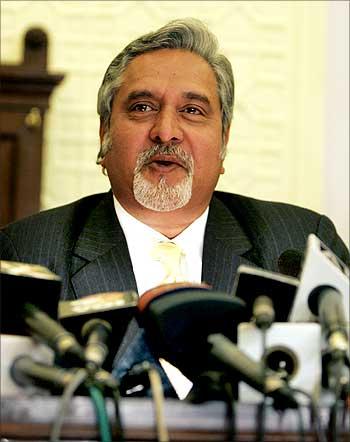 If Vijay Mallya faces allegations of financial irregularities and has been asked by the new owner, Diageo, to step down from United Spirits' board, is it appropriate for other companies to have him on board?
That is what proxy advisory firm Stakeholders' Empowerment Services is asking Sanofi India, of which Mallya is non-executive chairman.
"The recent allegations by Diageo against Mallya and their asking him to step down from the board strengthens our view that unless he is cleared of all these allegations and the 'wilful defaulter' tag, it may not be prudent to have him on board," said J N Gupta, managing director of SES.
A report by SES, ahead of Sanofi's annual general meeting on Wednesday, says corporate governance involves going much beyond being legally correct.
"Perceptions matter a lot and every decision of the company should be evaluated in a larger perspective.
"The Reserve Bank of India has placed a lot of restrictions on wilful defaulters. Further, Sebi (the securities markets regulator) in its concept paper on wilful defaulters has proposed strict conditions.
"The company must review the benefits it is having with Dr Mallya on the board versus potential risks it has, apart from reputational risks," it hsa said.
Adding that if Sanofi feels it is worthwhile to continue with Mallya at the helm, it must share the reasons with the shareholders.
Company reply
In response to an email questionnaire, a Sanofi India spokesperson said, "SES acknowledges that the Calcutta High Court has allowed an appeal of Dr Mallya against the decision of one bank to declare him a wilful defaulter.
"SES also acknowledges that Dr Mallya is not disqualified from holding a board position in our company or any other company. Hence, the comments/ concerns raised by SES are presently premature and would be addressed at an appropriate time."
The spokesperson did not offer any comment on a follow-up question on Diageo-related developments.
SES also recommended to the shareholders that they vote against the company's proposal on related party transactions.
Sanofi India is seeking approval of the shareholders for perpetuity, i.e. for RPTs up to a limit of Rs 1,100 crore (Rs 11 billion) for every financial year, without any further approval from them.
SES said as owners of the company, shareholders have full right to approve or disapprove any material RPTs.
Such resolutions with perpetual approval provide unfettered power to the board of directors, even if the company's business scenario changes in future.
Therefore, SES believed that, as a good governance practice, the company must take such approval on a yearly basis.
'Legally ok'
The company spokesperson said, "We would clarify that Clause 49 of the Listing Agreement and Section 188 of the Companies Act requires every company to take approval of shareholders for material RPTs ( i.e transactions exceeding 10 per cent of the consolidated turnover).
Neither the Act nor the Listing Agreement have stipulated that companies have to seek approval every year for material RPTs. The company is, therefore, fully compliant with the Act and the Listing Agreement."
Under the Listing Agreement , the board's audit committee can only give omnibus approval on RPTs for a year, and is required to review all such transactions on a quarterly basis. Sanofi cited these checks and balances.
Adding: "In case the Listing Agreement and the Companies Act require companies to take approval of shareholders every year for material RPTs, (we) would fully comply.
On a director
SES also recommended voting against the company move to reappoint a director, F Briens, chief financial officer of the intercontinental region under which the Indian arm falls, due to his poor attendance record.
A Sanofi spokesperson replied Briens was based in Paris and was a non-executive director of Sanofi India.
"Briens attended, in person, the meeting of the board in Mumbai on February 20.
"During his tenure as a director, he has regularly come to India for business discussions with the management of Sanofi India.
"Briens has very wide ranging experience in the pharmaceutical industry, highlighted in the notice to the Annual General Meeting.
"The board of directors is of the opinion that his knowledge and experience will be of benefit to the company and has, therefore, recommended to the shareholders that he be elected as a director."
Image: Vijay Mallya; Photograph: Reuters