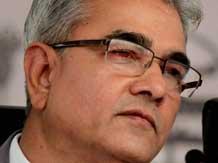 Shashi Kant Sharma, a 1976 IAS batch IAS officer, on Thursday took charge as the new Comptroller and Auditor General of India after being sworn in by President Pranab Mukherjee.

He replaced Vinod Rai, who superannuated on Wednesday after five-and-a-half years of eventful tenure as the head of CAG.

"Shashi Kant Sharma will have a tenure upto September 24, 2017," a Presidents Secretariat press communique said.

Sharma, a Bihar cadre officer, was holding the post of Defence Secretary prior to joining this constitutional post.

His appointment comes at a time when the CAG has come under sharp attack from the government and ruling party for its reports on assessment of Rs 1.76-lakh crore (Rs 1.76-trillion) loss in allocation of 2G spectrum.

Under Rai's tenure, the CAG was accused of going beyond its auditing ambit and indulging in analysing policy decisions.

Rai, however, had hit back saying the government just wanted the CAG to be an accountant.

The new CAG will have to handle the audit report on AgustaWestland chopper deal, among other reports.

He was closely associated with the deal from its early days till its completion in 2010.

CAG reports on 2G spectrum and coal block allocations during Rai's tenure had triggered a number of controversies and raised the hackles of the government, besides bringing in the concept of presumptive loss in audit.

Like Vinod Rai, Sharma too has served as Secretary in the Department of Financial Services.

He has also served as secretary in the Ministry of Communication and Information Technology.

Sharma, who did his MSc in Administrative Science and Development Problems from University of York, has spent over 10 years in the Defence Ministry in various capacities.
Image: Shashi Kant Sharma | Photograph, courtesy: Business Standard