The Sensex will then rally further and end 2016 at 28,000, according to the median forecast of 50 analysts polled in the past week.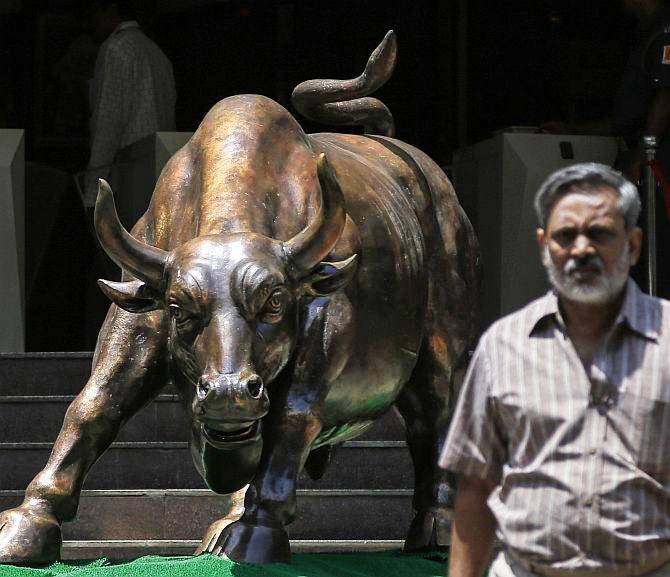 The BSE Sensex will recoup this year's losses and rally about 10 percent from here to the end of December on further improvement in the domestic economy, which is already outperforming most in Asia, a Reuters poll found.
Like many global stock markets, India's has had a disappointing start to the year but has regained most of those losses in the past month.
Indeed, the BSE index fell about 12 percent in January and February as foreign investors sold risky assets in fear of a sharper than anticipated economic slowdown in China.
But in March the index rose 10 percent, their best monthly gain in more than four years boosted by big overseas inflows, even as the risks emanating from China and elsewhere around the world remain.
Buoyed by what strategists rated as a good annual budget presented to parliament a month ago, the Sensex is forecast to trade at 26,135 in three months, up from Thursday's 25,341.86 close.
The Sensex will then rally further and end 2016 at 28,000, according to the median forecast of 50 analysts polled in the past week.
If realised, that means the index will record a 7 percent gain on the year after falling 5 percent last year.
Similar gains will be made by the broader NSE Nifty, which will reach 8,000 by end-June and then rise to 8,500 by end-December, according to the poll. It closed Thursday at 7735.20.
"We've seen positive momentum post the budget, we are expecting better balance of payments and fiscal deficits going to narrow. These sentiments and indicators are going to provide a positive boost to the economy," said Chandan Taparia, equity research analyst at Anand Rathi.
"FIIs (foreign institutional investors) are coming back into the Indian market and the rupee is strengthening so there is some liquidity. We've witnessed selling pressure in the past months because of global concerns, but now global volatility is cooling down."
Still, forecasters gave a one in three chance Indian stocks will continue falling, citing risks like poor monsoon rains, volatility in local interest rate expectations and tighter monetary policy in the United States.
Government spending and a broad-based revival in consumer demand in the second half of the year will be key to economic growth, said Madan Sabnavis, chief economist at CARE Ratings, adding that economic progress was vital to driving India's stock market.
The Indian economy grew a robust 7.3 percent in the quarter ending December on the year before. But most of the pick-up in consumer spending was from urban regions and not rural areas where a majority of India's 1.3 billion population live.
Sabnavis said further monetary policy easing would not help the stock market.
The Reserve Bank of India is likely to cut interest rates from 6.75 percent to 6.50 percent when it meets on April 5, according to a separate Reuters poll.
(Polling by Kailash Bathija in Bengaluru)