In the past couple of years, Saregama has redefined itself into a 'content IP company'.
Vanita Kohli-Khandekar reports.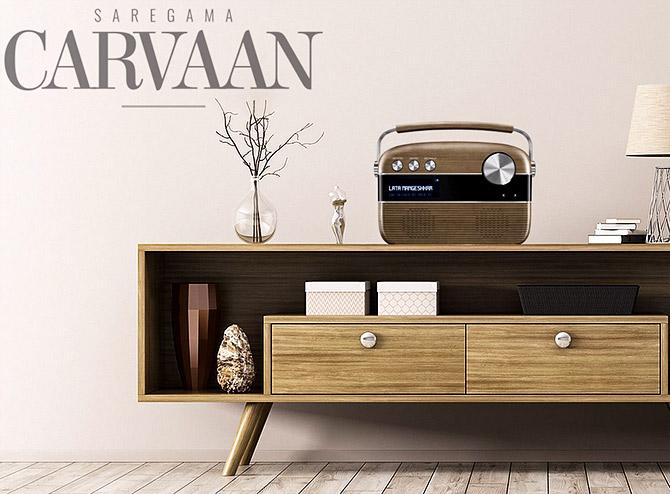 Photograph: Kind courtesy Saregama India
The music firm is rising high on Carvaan, more revenues from streaming and a new film studio -- is the turnaround for real?
You can teach an old horse new tricks.
After years in the wilderness the Rs 227 crore (Rs 2.27 billion) Saregama, India's oldest music firm, is on a winning streak.
A hit product in Carvaan, more money from YouTube, streaming services and other online platforms are throwing up lots of cash.
That is funding its re-entry into new music acquisition and films, the first of which released last month.
The first two quarters of 2017-2018 have seen it hit Rs 146 crore (Rs 1.46 billion) in top line and analysts estimate the company will close with Rs 350 crore (Rs 3.50 billion) in revenues.
Much of this is clearly exciting the market -- its share price has grown almost five times from Rs 181 in November 2016 to Rs 894 earlier last month.
Saregama is among the smaller firms in the Rs 20,529 crore (Rs 205.29 billion) RP Sanjeev Goenka group that has interests in power and retail, among other areas.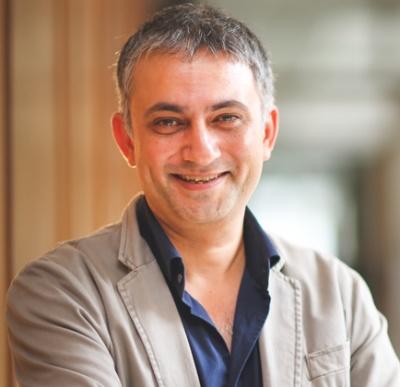 Photograph: Kind courtesy Vikram Mehra/LinkedIn
Could it be a takeover target for a larger media player?
Managing Director Vikram Mehra directs the question towards group Chairman Sanjeev Goenka, who was unavailable for comment. Nobody thinks Goenka will sell. "He likes the business and won't get out of it," says one media industry veteran.
As proof, they point to Goenka's push for scale into businesses beyond music.
In the past 2 to 3 years, Saregama has redefined itself into a 'content IP (intellectual property) company', as Mehra kept emphasising in an earnings call in October.
Much of the work done since Mehra came in October 2014 has focussed on juicing more out of Saregama's 'killer library', as Ashish Pherwani, partner, media and entertainment, EY, calls it.
The company sits on the global rights in perpetuity for 120,000 songs across 23 languages. This is, practically, every song recorded in India till the 1970s and 1980s, after which the erstwhile HMV started facing competition.
A lot of work has gone into digitising it and making the discovery easier. So, if someone is looking for a song in which, say, Amitabh Bachchan is boating, they should be directed to it -- by song, by film, by writers, composers and so on -- irrespective of the search term. That is the science of it.
To this, Saregama has added layers that help monetise it better. There is a rate card for different kinds of usage and a team of five ad sales people who knock on the doors of agencies, production houses and anybody else who could be a potential user.
There are 24 people sitting in a BPO in Kolkata who trawl the Web and watch a whole lot of TV shows trying to track the use of Saregama songs.
If they are being used, Saregama notifies Google or the channel to ensure that any money the song makes goes to Saregama and then a part of it to the artistes.
The focus on discoverability has also helped push traffic (and, therefore, revenues) on its YouTube channels from 19 million views in April 2015 to 120 million currently.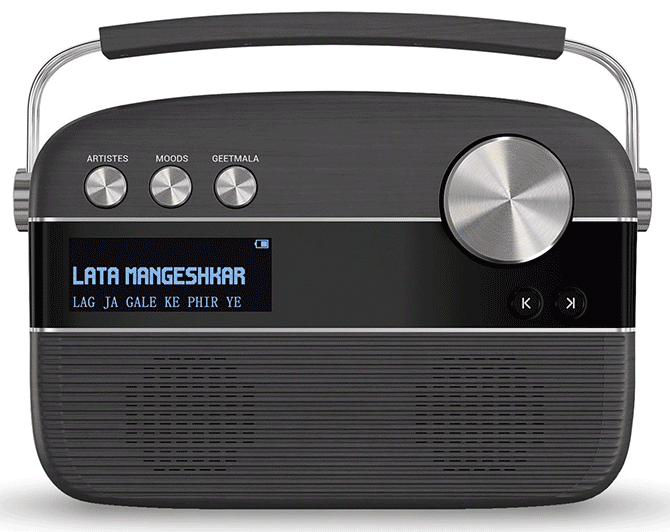 Photograph: Kind courtesy Saregama India
Then there is Carvaan, essentially a bluetooth speaker loaded with 5,000 songs of Mohammed Rafi, Kishore Kumar, Lata Mangeshkar and others from that era.
Since its launch earlier this year, Carvaan has sold 95,000 units, amounting to Rs 40 crore (Rs 400 million) or about half of Saregama's revenues in the second quarter of 2017-2018.
By the end of this financial year, Mehra reckons, it would have sold at least half a million units. If it does, that translates to revenue of Rs 200 crore (Rs 2 billion) just for Carvaan.
"We sit on a large amount of valuable assets, the idea is to monetise them, and then prepare for the future. There will come a time when people will not recognise these artistes. We need to prepare for such a time," says Mehra.
That is where the new forays come in.
After many years of abstaining, Saregama has started, albeit tentatively, acquiring the music of films such as Babumoshai Bandookbaaz or Ittefaq.
On TV content, which brings in roughly one-third of the firm's top line, it has pulled the plug on the fiercely-competitive Hindi business where it cannot own IP. It will continue doing Tamil shows for Sun TV where it gets to keep the IP.
But the area where it is making its riskiest bet, think analysts, is films.
Saregama burnt its fingers earlier with Godmother (1999) among other films.
"There are two things I wanted to prove -- yes people will pay for music and films can be made profitable," says Mehra.
He explains that Saregama's Yoodle Films will do 12 films every year on a tight budget (Rs 3 crore to Rs 5 crore/Rs 30 million to Rs 50 million) and a tight schedule (18 to 21 days).
These will have a limited release, an average of about 100 screens, through a distribution arrangement with PVR. The idea is to make money from licensing deals with digital or TV.
Yoodle, claims Mehra, is the only studio with a detailed, written, standard operating procedure. All raw scripts have to be read by any two of a panel of 11 members and reverted back on within 30 to 45 days.
The content has been tailored based on the inputs from a 2015 research, the one that formed the basis for Carvaan. It showed a need gap for realistic, gritty films from the young, who are more exposed to content online.
So, Ajji, which released last month -- about a grandmother's revenge after her grandchild is raped -- is already making waves on the international festival scene.
There are seven others such as Hamid (about a Kashmiri child whose father is missing) or Brij Mohan Haazir Ho (a man accused of his own murder) among others.
Hollywood has shown that structure helps improve returns. How much scale that could lead to though is moot?
Industry insiders expect that between Carvaan, online music and films Saregama could hit an estimated Rs 1,000 crore (Rs 10 billion) content in 3 to 5 years.
For now, this doesn't look like a one-trick horse.