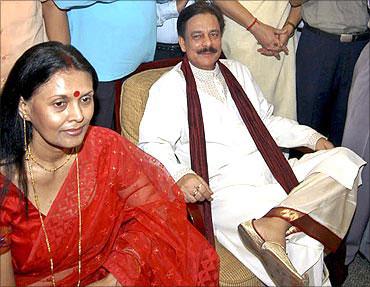 The Supreme Court on Tuesday said that the Securities and Exchange Board of India was entitled to seek all necessary information from two Sahara group firms on how resources were being raised but refused to stay the companies' ongoing fund-mopping exercise.
The Apex Court was hearing the market regulator's petition against an Allahabad high court order staying Sebi's ban on two Sahara group firms, Sahara India Real Estate Corporation and Sahara Housing Investment Corporation from raising funds from the public through OFCDs (Optionally Fully Convertible Debentures).
A bench headed by Chief Justice SH Kapadia said that Sebi can call for information from the two Sahara group firms regarding their investors.
"We make it clear that Sebi is entitled to call for any information which it deem to fit including names of the investors who have invested in OFCDs," the bench said.
The Apex Court further said, "We express no opinion in this case. We direct the high court to dispose of the case expeditiously."
However, the bench declined the plea of Sebi's counsel to stay Sahara group companies from raising money from the open market through OFCD.
"The investors are very clever nowadays. If they invest then that should be at their own risk," the bench said, asking Sebi to bring out an advertisement regarding the ongoing case.
The Supreme Court also asked the registrar of companies to appear before the Allahabad high court and file its reply in this matter.
On Monday, Sebi had moved the Supreme Court against a high court order staying the market regulator's ban on a Sahara group firm to raise funds from the public.
Earlier on December 13, the Allahabad high court had stayed a Sebi order restraining Sahara India Real Estate Corporation from accessing public funds.
In its petition, the Sahara group firm had challenged the order of Sebi restraining two entities and promoters, including chairman Subroto Roy, from accessing market for non-disclosure of information.
Sebi had also said that there was a need for lifting the veil on corporate fund raising.
Image: Subroto Roy, chairman of Sahara India, with his wife Swapna. Photograph: Reuters