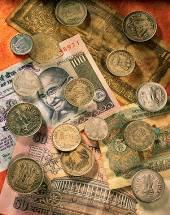 With a depreciating rupee leading to spiralling import costs, IT hardware body MAIT is scheduled to meet officials from ministries of commerce, finance, and IT department later in the day seeking a revision of prices.

The domestic electronic product manufacturers depend heavily on imports for hardware components like hard drive and displays.

With rupee falling steadily, imports have become costlier for them.

"Members of MAIT will meet officials from IT Department and ministries of commerce and finance to sensitise them that old prices of existing contracts should be revised," MAIT president Alok Bharadwaj told PTI.

This will give some respite to the already struggling sector, he added.

Members of MAIT include IBM, Acer, HCL Infosystems, Wipro and Lenovo, among others.

The three separate meetings are expected to see attendance of Department Secretaries and Joint Secretaries as well.

Manufacturers Association of Information Technology has also warned that the prices of electronic products could go up in the coming days on the back of the rupee weakening against the dollar.

In the last one year, rupee has depreciated by over 20 per cent against the US dollar from Rs 45.13 to Rs 54.37 per dollar.

To minimise the impact of rising input costs, the prices of products like personal computers and laptops have already gone up by almost 10 per cent in the last nine months, he said.

Describing the steep decline in rupee's value as 'disastrous' and a 'big shock' for the industry, Bharadwaj said the Rs 70,000-crore (Rs 700 billion) Indian IT hardware industry gets substantial part of its revenues from government projects.

"The rates of these projects are locked once tender is received," he said, adding the currency volatility is severely impacting the margins of the companies.

MAIT would also request for intervention by the Reserve Bank of India in the forex market to arrest the decline in rupee's value, which touched an all-time low of Rs 54.86 against the dollar on Friday.

"With the falling rupee, the input cost for IT hardware firms would go up as most of the components that go into manufacturing IT products are imported," Bharadwaj added.
Share your ideas on how the rupee can be saved. See what others have to say.