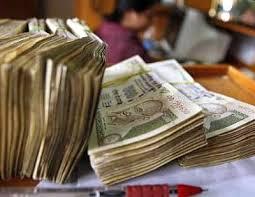 Last month, Rajan said in Stockholm that the Indian economy would withstand any impact of the Greece crisis

The rupee is likely to weaken this week if the Reserve Bank of India continues to mop up dollars through state-run banks.
Another important event that could have an impact on the Indian currency is the Greek bailout though currency experts believe it might not cause major jitters in the market.

Last month, RBI Governor Raghuram Rajan had said in Stockholm the Indian economy would withstand any impact of the crisis in Greece.
According to Rajan, one factor helping India is its strong foreign exchange reserves.
After rising for four weeks, RBI's foreign exchange reserves fell $237.5 million for the week ended June 26 to $355.22 billion, data released on Friday showed.

"The broad range for the rupee is seen at 63.40 to 63.80 a dollar this week. Further rise of the rupee is not expected much, as RBI might start buying dollars through public sector banks," said Ashutosh Khajuria, president (treasury) at Federal Bank.
On Friday, the rupee ended at a two-month high at 63.44 compared with the previous close of 63.51 a dollar.
The currency had opened at 63.43 and, during intra-day trades, it touched a high of 63.35 a dollar.
The rupee had ended at 63.44 a dollar on May 5. The rise in the rupee was due to capital flows attracted by domestic markets and dollar sale by exporters.

The situation in Greece will also have some impact on government bond yields.
"The trading range would be between 7.72 per cent and 7.85 per cent for the new 10-year bond and between 7.90 per cent and 8.10 per cent for the 10-year benchmark bond." said Badrish Kulhalli, head of fixed income at HDFC Life.

"There is a lot of dependency on the outcome of the Greek referendum (being held on Sunday) and how the market behaves after that," Kuhali added.
On Friday, the yield on the 10-year benchmark bond ended stable at 7.98 per cent.
The yield on the new 10-year bond ended at 7.80 per cent compared to the previous close of 7.81 per cent.
Rupee can weaken on RBI's dollar buying