Only 10 per cent of stocks account for 93 per cent of investments.
Sachin P Mampatta reports.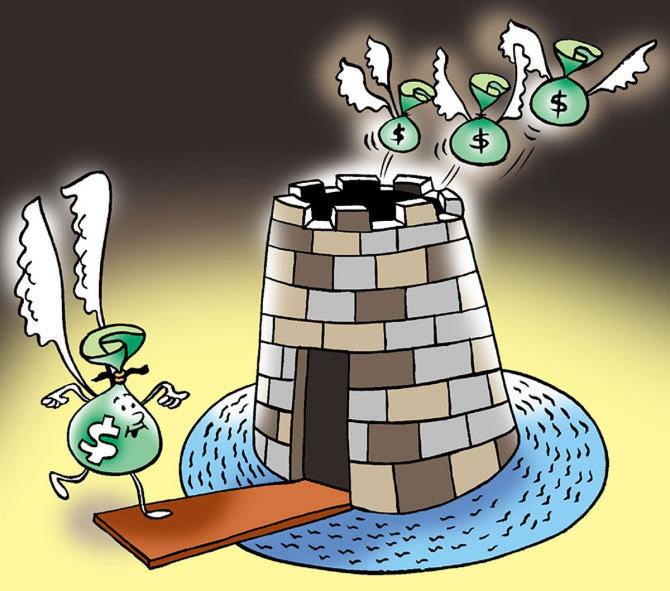 Foreign portfolio investors have increasingly put more of their eggs in a smaller basket of Indian stocks.
The recent sell-off and the advent of technology companies listing on stock exchanges could be factors that might favour a rejig resulting in increased diversification, according to experts.
Only 10 per cent of stocks account for 93 per cent of investments and appear edging close to the 2001 level of 98 per cent, shows the exchange data. It was 85 per cent in 2006.
'The rise in concentration in the last three years or so is... (related to the) rise in the market-cap share of the top... (10 per cent) of listed stocks during this period,' stated the data from the National Stock Exchange's monthly market pulse report.
The analysis looked at quarterly numbers until December 2020 for Nifty 500 companies.
"These are all the compulsions of size," said U R Bhat, director at Dalton Capital Advisors (India).
Foreign portfolio investors often have to invest billions of dollars.
They tend to buy more of large, liquid stocks since entry and exit becomes a problem otherwise, he said.
This would also mean that concentration would come down during a sell-off as it is easier to exit the more liquid names, he pointed out.
Foreign investors have been net sellers by Rs 15,595 crore (Rs 155.95 billion) in April and May so far.
Listing of start-up companies could help create more diversification too, suggested Pankaj Pandey, head of research at brokerage firm ICICI Direct.
These companies typically have very low promoter holding. They have to raise money multiple times as they grow.
This tends to dilute the original promoter's holdings as new partners pump in more money.
This also means that more shares of the company are available for investors to buy and sell, when such companies list on stock exchanges.
This higher free float could provide an avenue for FPIs looking for liquid investments.
A look at the sectoral figures also shows some signs of concentration.
Almost a third of the assets under custody are in financial services companies.
Software and services, oil and gas and automobile-related stocks are among the other favourites.
Pharmaceuticals and biotechnology stocks also are part of the top five.
The top three sectors alone account for the majority of holdings.
There is a similar trend in terms of the number of stocks in which they invest, according to the NSE analysis.
'....overall the number of stocks in the portfolio has hovered around 1200 for the past 10 years. During this period, FIIs have poured in $145 billion+ on a net basis into the Indian equity markets. In the absence of new companies, the deployment of this capital has led to a gradual rise in their ownership of the incumbent portfolio,' it said.
They hold at least a 5 per cent stake in 70 per cent of the Nifty500 companies, it said.
Mutual funds are exploring more stocks, though their concentration, too, has been on the rise, it added.