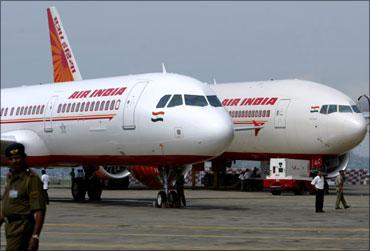 Air India's website, which went down two days ago after the airline offered a special fare of Rs 100, was apparently blocked by a few sites in India and abroad for a considerable time.
An unprecedented 80,000 hits a minute were recorded from some sites which blocked bookings by genuine passengers, the national carrier's Information Technology (IT) team found during internal investigations.
The IT team identified at least four sites in India, four in the United States and one in Singapore, which were blocking others from getting into the ticket booking engine, airline sources said.
The massive hits led the website's NIC server to turn erratic, they said. Almost all Indian-government websites are developed and managed by the National Informatics Centre (NIC).
Following the massive load on its website, the airline increased the number of its servers from four to eight, the sources said, adding a large number of tickets were sold at the offered rate but did not elaborate.
In a Facebook post on Wednesday, the national carrier had apologised to its "customers who tried to access our website during the last few hours. We are experiencing some technical problem with our servers and doing everything to minimise the amount of time necessary to restore our website."
Air India had on Tuesday announced discounted tickets offer for Rs 100 for a limited period to celebrate its merger with erstwhile Indian Airlines. The bookings can be done till August 31 for travel till September 30 only through the airline's website.
Regarding its celebrations on August 27, Air India condemned "biased" reports that it had spent huge amounts of taxpayers' money on the event. Its unions like the Air Corporation Employees Union and Aviation Industry Employees' Guild also deplored these reports and supported the management on the matter.
An official release said the airline was also "exploring" to take up the issue at an appropriate forum.