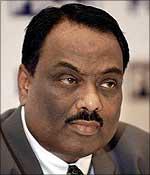 Finance Minister P Chidambaram presented the Budget in Parliament on February 28.
What impact will it have on the Indian economy?
Will the Budget help the economy or hurt it?
How will this impact you?
M Rafeeque Ahmed answered this and other questions during a Rediff chat on Tuesday.
Padmashree Ahmed is the president of the Federation of Indian Export Organisations and chairman of the Farida Group of Companies, a leader in leather exports.
Here is the transcript:
M Rafeeque Ahmed says, Hi everybody this is M Rafeeque Ahmed - look forward to your questions so fire away
---
danish asked, What are three things you think will help economy?
M Rafeeque Ahmed answers, at 2013-03-05 15:17:36Growth holds the key to economy followed by push to infrastructure and containing Revenue Deficit
---
anant asked, How much is leather business worth in India?
M Rafeeque Ahmed answers, India accounts for about 3% of global trade while China has over 20% market share.
---
ruchir asked, Which countries are biggest in leather business?
M Rafeeque Ahmed answers, China is leading followed by India,Italy ,South Korea to name a few.
---
ratindra asked, What should be done to bring down fiscal deficit? Many people are saying deficit is a major problem the government is facing.
M Rafeeque Ahmed answers, We should not be much worried about fiscal deficit but our focus should be to manage revenue deficit which will hurt the econmy in a big way.
---
bhandarkar asked, Which are major centres of leather work in India?
M Rafeeque Ahmed answers, It will depend on product profile .For finished laether it would be Kanpur and Jallandhar ,For Shoes , it could be at Chennai, Agra and Kanpur for leather Garment Delhi and Noida while for purse and gloves Kolkata.
---
madhu asked, Why arent Indian leather products as good as export material?
M Rafeeque Ahmed answers, The leather industry has come a long way and Indian products are as good as imported .Indian products are successfully competing with international brand both in India and abroad.The FDI has flown in leather industry benefitting technology and design .However, we have yet to develop our own design and I am sure NID and NIFT will help in this regard.
---
yadav asked, What should the governemnt do to boost export, especially leather industry?
M Rafeeque Ahmed answers, There is urgent need for expansion in leather sector to create economy of scale. Government should allow capital gooods imports at zero duty and should reduce the cost of credit for expansion and modernisation of leather unit.
---
sachin asked, What is India's solution to economic growth?
M Rafeeque Ahmed answers, The growth holds the key to inclusive growth . The Government should invest heavily in infrastructure , ease the environment of doing business , remove cascading effect of taxes and provide stability of policy to enterpreneurs to attract investment for reuired growth.
---
najma asked, what tips would you give someone starting out in the leather export business?
M Rafeeque Ahmed answers, Manufacturing is tough in India and one should not deter by initial problems .A successful enterpreneur should relish challanges and manufactuirng will offer many such .Be focussed and believe in ethical way of doing business.
---
karen asked, do you believe this budget can kickstart our flagging economy?
M Rafeeque Ahmed answers, Budget has given major boost to infrastructure and provided investment allowance to industry where such investment is over Rs 100 Cr .It has created an enabling environment and put the ball in the court of entrepreneur to exploit the opportunities.
---
Kaleem asked, As per latest update from Budget news, leather and footwear industry custom has been reduced. What will be the impact on this to our leather industry? Do we expect something good from this?
M Rafeeque Ahmed answers, The budget has reduced the duty on capital goods to encourage units to go for expansion and modernisation .This will help ,particularly domestic manufacturer. We are the second largest exporter but gap between India nad China is too wide.
---
amol asked, What are the main problems in foreign trade?
M Rafeeque Ahmed answers, Contraction in global demand is the latest problem in foreign trade.Bersides ,we have supply side bottlenecks to address and high transaction cost.
---
dhananjay asked, Do you think India should focus on increasing trade with neighbours and other Asian countries?
M Rafeeque Ahmed answers, India has signed FTA with ASEAN and we have entered in CEPA/CECA with Japan ,Korea ,Malaysia,Singapre .Our focus is to take bilateral trade with ASEAN to USD 100 Bn by 2015. We are having reasonably good exports with our neighbours and are now focussing to increase our engagement with Pakistan,Bangladesh, Sri Lanka and Iran
---
M Rafeeque Ahmed says, It was great talking to all of you.I look forward to chat with you all soon. Bye
---