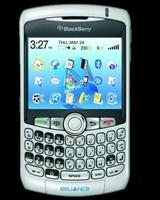 Telecom major Reliance Mobile on Wednesday said it has partnered Canadian firm Research In Motion to launch BlackBerry Tour smartphone for its CDMA customers in the country priced at Rs 27,990.
BlackBerry Tour, a 3G-enabled smartphone, will be available nationally from October 12 for Rs 27,990, Reliance Communications said in a statement.
As a promotion scheme for pre-booking customers the company has announced that the users would get two months of free BlackBerry Internet Service on Reliance Mobile's CDMA network.
Customers can pre-book the BlackBerry Tour from October 7 till October 31, 2009.
"Reliance Mobile has been the leader in CDMA communication technology in India since its inception. The innovation and advanced technology that the BlackBerry Tour incorporates is ideal for today's consumer who is always on the move," Reliance Mobile Head Wireless Data Business Vrajesh Shelat said.
With this, Reliance Mobile has expanded its portfolio of BlackBerry smartphones, which includes BlackBerry Curve 8330, BlackBerry Pearl 8130, BlackBerry 8703 and BlackBerry 8830 for its CDMA network and BlackBerry Curve 8900 and BlackBerry Pearl 8110 for its GSM network.
The company also plans to roll out the BlackBerry Tour to its GSM customers soon, it said.