The tea industry's cup of woes brimmeth — scanty rainfall and pest attacks have dragged down production in May, prices are lower than last year, and demand from some export markets is muted.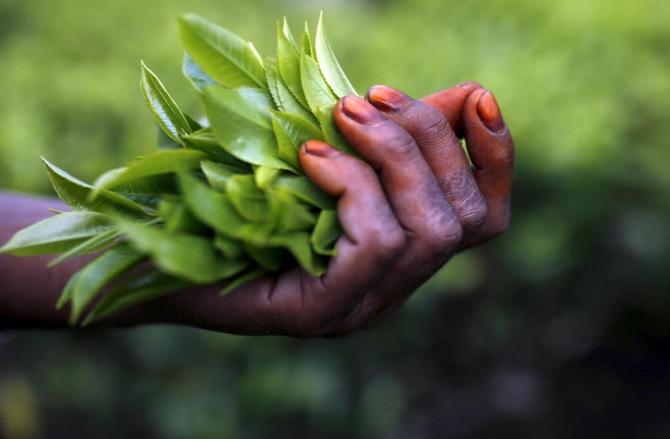 Production in North Bengal — comprising the Dooars, Terai, and Darjeeling — is majorly affected; parts of Assam are also hit.
Arijit Raha, secretary general, Indian Tea Association (ITA), said that the Tea Board numbers for April show a crop loss of about 9 per cent for North Bengal, compared to last year.
"Based on feedback from member gardens, the production for May is showing sharp decline due to rising temperatures," said Raha.
The ITA estimate for May is that crop could be down 25 per cent in Terai, 30 per cent in the Dooars, and 39-40 per cent in Darjeeling.
"The average decline in North Bengal for May is likely to be 38 per cent, compared to last year," he said.
The figures are for the organised sector which accounts for approximately 50 per cent of tea production.
Joydeep Phukan, secretary, Tea Research Association, said the rainfall in North Bengal was deficient by about 50 per cent from the end of April through May.
The second flush is the premium produce for the plains (the Dooars, Terai, and Assam).
"Mid-May is the beginning of high-quality second flush and loss of crop up to 40 per cent in the Dooars during this period is a worrying factor for the profitability of gardens.
"The second flush teas are high-priced teas due to their high quality and normally packeteers also start buying this time of the year," said Phukan.
Vikram Singh Gulia, managing director, Amalgamated Plantations, said, if rains are received in the next seven to eight days, then the second fortnight of June may bring some succour.
"Otherwise, by the end of June, we are anticipating a deficit of the premium second flush in the Dooars and Assam, on the back of scanty rainfall and pest attack."
Himanshu Shah, chairman, M K Shah Exports, said the production in Upper Assam was good, but all other areas were significantly lower compared to last year.
Climate action
Erratic rainfall patterns and rising temperatures were adversely affecting tea production, said Raha.
Tea is a rain-fed crop.
"It is important to have six to seven months of even rainfall for the sustainability of crops," said Raha.
"The irrigation infrastructure needs to be enhanced which requires huge capital expenditure because a tea estate is about 500 hectares," he added.
Tea estates were investing in creating irrigation infrastructure.
But Raha pointed out that the applicability of central government schemes on soil management, and irrigation for the organised sector were an immediate necessity.
"A climate action plan for tea estates needs to be urgently crystallised in collaboration with the Government of India," he said.
The Tea Association of India said that adverse climate conditions, subdued international and domestic markets, and their profound impact on the industry call for collective action and collaboration from all stakeholders to ensure its resilience and growth.
Tea prices
Supply-side issues have not translated into gains for tea prices.
"This is the first time that the crop is down and prices are also down, especially in the Darjeeling and the Dooars regions," said Atul Asthana, managing director and chief executive officer, Goodricke Group.
"Due to the economic crisis in Pakistan, it is not able to import teas from Kenya, thereby creating excess unsold stock of Kenyan CTC teas.
"This is creating a glut in the international market, which is adversely affecting the supply-demand equilibrium," added Asthana.
Anshuman Kanoria, chairman, Indian Tea Exporters Association, said, "Right now, we are in a situation which is a lose-lose for the entire trade."
"A small section of high-quality teas is still getting reasonable prices because there will always be a niche demand for speciality teas.
"But that's less than 5 per cent of the Indian tea industry," Kanoria pointed out.
The average price for North India teas sold at Guwahati, Kolkata, and Siliguri auction centres for the current season was Rs 195.15 per kilogram (kg), compared with Rs 206.33 per kg in 2022.
Some of the producers also said that 'orthodox', which was a bright spot last year, was impacted because Iran was not buying. On the export front, the demand was said to be lower even for Darjeeling.
The demand for Darjeeling's first flush was less and the second flush had just about started, Asthana said.
"When there is an economic recession in the global markets, it's bound to affect tea prices globally, especially the high-quality Darjeeling teas," he added.
But as Kanoria said, every year Darjeeling finds a way to become worse.