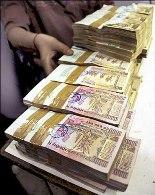 Bankers on Thursday said the status quo in the
monetary stance
of the Reserve Bank is largely on expected lines taken after considering the tight liquidity situation and overall cooling inflation numbers.
"The RBI has taken a balanced view by keeping monetary measures unchanged. With inflation showing signs of abatement, easing of liquidity measures will support economic growth," foreign lender Citi's Chief Financial Officer, Abhijit Sen, told
PTI
.
In its mid-term policy announcement, the RBI kept its key rates repo and reverse repo (short term lending and borrowing rates) while the cash reserve ratio (CRR)--the amount of cash banks have to keep with the central bank was also left unchanged.
The repo presently stands at 6.25 per cent and the reverse repo at 5.25 per cent. The CRR also remains unchanged at 6 per cent. Rather, the central bank opted for making use of other instruments like lowering of SLR by one per cent to 24 per cent of their net demand and time liabilities.
It will conduct open market operation (OMO) auctions for purchase of government securities which is slated to infuse another Rs 48,000-crore in the system. Private sector lender HDFC Bank's head of treasury operations, Ashish Parthasarthy, said though the SLR had already been taken down by two per cent as a special measure earlier, banks were not comfortable using the window.
But now, the measure is more "palatable" for banks as it can be done automatically. "Theoretically, no additional liquidity is being infused, but practically, I am sure there will be an increase," he said.
Public sector Corporation Bank's Chairman and Managing Director, Ramnath Pradeep, also said that the move was on expected lines, though he would have liked a cut in the CRR as well to infuse more liquidity.
Pradeep said he does not expect any more rate hikes by the RBI till March. Corporation Bank's asset liability committee will be meeting before December 25 to take a call on its base rate, which is one of the lowest in the industry, he said.
"We were waiting for the RBI's policy direction. Now that it is clear we may increase the base rate," he said.
According to Oriental Bank of Commerce Executive Director S C Sinha said, steps taken by RBI would ease pressure on liquidity which is tight at this point of time due to many reasons, including advance tax payment.
Liquidity injection by RBI would put on hold deposit rate hike for some time, he said, adding, rate hike would come from those banks which have not done in the last one month.
Echoing a similar view Union Bank of India Executive Director S C Kalia said pressure on resources would remain till government starts spending.
Based on asset liability mismatch each bank would take a call on interest rate revision, Kalia said. Currently, advances are growing at a rate of 23.08 per cent to Rs 37 lakh crore during the one-year period ended December 3, 2010, while deposits have been growing at 15 per cent.