The Reserve Bank is committed to bringing down the cash reserve ratio (CRR) and statutory liquidity ratio (SLR) in a "calibrated manner" to increase availability of credit, Governor D Subbarao on Tuesday said.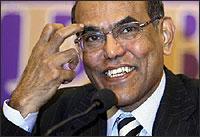 "It's not that SLR should be thrown away but certainly we should bring it down, so that there is credit availability and the private sector is not crowded out," he told reporters on the sidelines of an event in Mumbai.

CRR is the portion of deposits that banks are required to keep in cash with the the Reserve Bank of India (RBI), while SLR is the amount that banks have to park in government securities.

SLR, at present, is 24 per cent and CRR 6 per cent, meaning that banks have to keep about 30 per cent of their deposits aside.

"It is (CRR and SLR) still considered high and there is an objective in the Reserve Bank that it must be brought down ...it has to come down gradually in a calibrated manner," Subbarao said.

RBI
has kept the CRR unchanged for over a year now while it reduced the SLR by one percentage point due to stress on liquidity last year in December.
RBI, Subbarao said, is also considering a proposal to re-introduce inflation-indexed bonds.
"One cause of concern is whether in a period of relative high inflation...whether they will be successful. We will think through this but certainly we will introduce that (the inflation indexed bonds)," he said.
Subbarao also reiterated the RBI's intention to go in for for full capital account convertibility but added that it was not in a hurry to do so.
Quoting a Latin proverb, he said, "Make haste slowly...we will of course open up capital account but we will liberalise slowly", adding that there were no benign solutions to complex problems and one had to make choices in such situations.
Managing monetary policy, he added, was a key challenge, given the increased interconnectedness between the world economies and mushrooming of trouble spots in different regions like Europe.