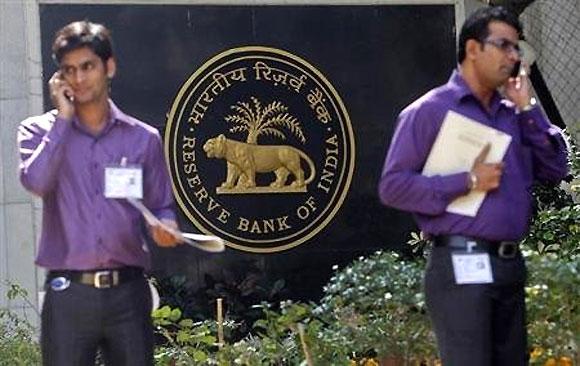 Alarmed at the currency risks that Indian companies are running on their books, the central bank may consider making hedging mandatory if banks cannot persuade their corporate customers to seek protection, several market sources told Reuters.
For now, the Reserve Bank of India (RBI) is calling on banks with detailed questions about how they are compelling corporate clients to hedge their exposure.
If indirect pressure fails, the RBI is considering forcing companies to submit detailed financial information through their lenders, four bankers cited an RBI official as saying at a meeting earlier this month.
As a last resort, the RBI could, "with the stroke of a pen", oblige companies to hedge, two of the sources cited RBI Executive Director G. Padmanabhan as saying at the meeting.
Padmanabhan did not specify how that could be done, given that the RBI supervises banks but does not have legal authority to oversee companies.
The RBI's warnings signal its concern that unhedged firms could be a vulnerable link should global markets buckle.
The central bank has worked hard to build up its defences after India last year weathered its worst rupee crisis in two decades.
"The tone is not harsh but, yes, they want us to do something," said a banker who said his trading desk has received calls from the RBI every 10 days for the past 1-1/2 months.
"We just tell them (RBI) we are trying to do it. We cannot force clients. What means do I have?"
When contacted, the RBI did not have immediate comments.
The main concern is that a sudden and sustained fall in the rupee could leave banks on the hook for any defaults by their corporate customers, since lenders typically help companies finance their overseas obligations.
RBI Deputy Governor H.R. Khan said in a speech this month the hedge ratio for overseas loans and foreign convertible debt had fallen to around 15 percent in July-August from about 34 percent in the previous fiscal year, which he described as "very low".
"It is absolutely essential that corporates should continue to be guided by sound hedging policies and the financing banks factor the risk of unhedged exposures in their credit assessment framework," Khan said.
India does not publish comprehensive data on external loans even though domestic companies are frequent borrowers, with $3.2 billion taken in external commercial borrowings in September alone, according to RBI data. Figures on overseas commitments by importers is also not published.
FRUSTRATIONS
Ironically, the RBI itself may be partly to blame for the lack of hedging by corporations, analysts say. Under Governor Raghuram Rajan, it has conditioned markets to expect stability by keeping the rupee in a tight range of 59.00-62.50 per dollar for the past year.
The rupee plunged to a record low of 68.85 per dollar in August last year after foreign investors sold heavily on concerns about India's steep fiscal and current account deficits.
But efforts to narrow the twin deficits, build reserves and the election of business-friendly Prime Minister Narendra Modi have sparked a revival in investor confidence.
Hedging, meanwhile, is expensive because India's elevated interest rates mean forward premiums are high. The one-year forward premium is currently trading at just under 8 percent from around 4-5 percent typically, bankers say.
"A lot of corporates prefer to keep the longer-term exposure unhedged as the recent stability and the high costs provide no incentive to hedge," said Mradul Dubey, head of treasury for importer Electro Steel Castings and Srikalahasthi Pipes Ltd.
Bankers say they feel caught in the middle.
The RBI has not been shy about pressuring lenders in the recent past, calling trading desks last year with explicit messages to cut their speculative currency positions.
For now, bankers said they do not expect the RBI to make banks provide detailed financial information on their corporate clients.
Forcing companies to hedge would be a last-ditch step because it is unclear if the RBI has the authority; Padmanabhan has also told bankers it isn't a move Rajan favours.
Initial measures may involve raising provisioning requirements for lenders against their corporate customers' unhedged FX exposure, which now stands at 25 percent of the outstanding amount.