Industrialist Rahul Bajaj on Thursday welcomed the relatively lenient two-year jail term which a US court awarded to former McKinsey head Rajat Gupta for insider trading.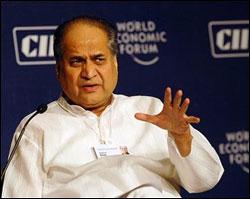 "Under the American law, there was no way his request for community service without going to jail (would have been accepted). We knew he will go to jail....two years is a light sentence and we must thank the judge," the Bajaj Auto chairman said in Mumbai, when asked for reaction.
Bajaj added that doing something like insider trading was "height of stupidity" which finished Gupta's career and hurt his family.
The key message for businessmen, including the ones from India, was "don't make such mistakes, don't be greedy, don't be stupid," according to Bajaj.
"While the law is same for all, here (in India) sometimes the law is not implemented equally for the big and the small. Which big fish, after conviction, has gone to jail here?" Bajaj asked.
Analjit Singh, a long-time friend of Gupta's and Max India chairman, said: "This is a part of the evolution, but it is very harsh on Rajat."
Indian-American Gupta, a one-time Wall Street tycoon, was awarded two years term in prison and a fine of $5 million by a New York Federal judge who termed his offences as "disgusting" and "terrible breach of trust".