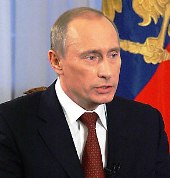 Russian Prime Minister Vladimir Putin inaugurated the East-Siberia-Pacific Ocean oil pipeline on Monday.
The pipeline will enable Moscow to enter markets in Asia- Pacific region and reduce dependency on European customers.
"It is an important event for Russia. It is a strategic project, which enables to enter new markets in the Asia- Pacific region, where our presence was insufficient," Putin said while pressing the button for loading the first crude on a tanker at the newly built Kozmino oil terminal of the ESPO.
The project is designed to pump up to 1.6 million barrels (220,000 tonnes) of crude per day from Siberia to Russia's far east and then on to China and the Asia-Pacific region. According to news agency RIA Novosti, the project's first leg envisages the construction of a 2,757-kilometre section with annual capacity of 220.5 million barrels of crude.
It will link Taishet, in East Siberia's Irkutsk Region, to Skovorodino, in the Amur Region, in Russia's Far East.
The second stretch will run 2,100 kilometres from Skovorodino to the Pacific Ocean, currently the crude beyond Skovorodino goes by rail to China and the Pacific coast.
Putin said that the project's first leg cost $12.1 billion, and $2 billion were allocated for the construction of the oil terminal in Kozmino.
Putin underscored that despite the global financial crisis, the construction of the first leg was completed in five years, as scheduled.
According to the newsru.com web portal, the Moscow's refusal to divert the ESPO project into China from Skovorodino had irked Beijing, which later provided $25 billion loan to Rosneft against 20 years of assured oil supplies and agreed to build a spur pipeline into the Chinese territory at its own cost.
Over the time ESPO pipeline would allow Russia to export crude to Asian-Pacific markets from the Western Siberian fields, including from the Tomsk region, where ONGC-owned Imperial Energy has operations.
Image: Vladimir Putin