Public sector player Punjab & Sind Bank is drawing up plans to privately place equity shares with institutional investors ahead of an initial public offer next year.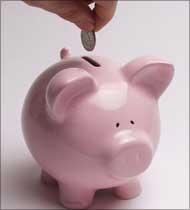 The Delhi-headquartered bank intends to offer around 5 per cent each to institutional players such as the Life Insurance Corporation of India, General Insurance Corporation, Small Industries Development Bank of India and UTI Asset Management Company, a bank executive familiar with the plans told Business Standard.
This follows the Reserve Bank of India's rejection of the bank's proposal to sell a 30 per cent stake to Sidbi. Sources close to the development said RBI was not comfortable with the idea of an entity other than the government holding more than 10 per cent in a commercial bank.
PSB, which has turned around over recent years by restructuring and recovering bad debt, was aiming to raise Rs 600 crore (Rs 6 billion) to Rs 700 crore (Rs 7 billion) by selling the stake to Sidbi.
(Rs crore)

Financial performance

2007-08
2008-09
% chg
Deposits
24,831
34,676
39.64
Advances
18,343
24,615
34.19
Interest income
2,219
3,247
46.32
Total income
2,537
3,655
44.07
Net profit
382
437
14.34
Net NPA to net advances (%)
0.37
0.32
-
Capital Adequacy Ratio (%)
11.57
11.88
-
Source: Balance sheet
This is a first private placement of its kind in the public sector banking space. At the start of the decade, LIC had acquired a 26 per cent stake in Corporation Bank. But by then the bank was already listed.
The executive said the bank's IPO, planned for 2010-11, could provide an exit route for investors who will participate in the private placement. As a move towards an IPO, the government had also restructured the bank's capital by converting Rs 560 crore (Rs 5.6 billion) of equity capital into perpetual debt instrument and preference shares.
Asked about the development, PSB chairman and managing director G S Vedi told Business Standard: "We can place the equity with a number of players who can see value in the bank. The IPO will also provide an exit route for that. In that process, I will be able to divest 20 to 25 per cent."
Vedi also said the price at which institutional investors acquire stake could serve as the benchmark for the IPO.
PSB is one of the two unlisted banks of the country. The other player - Kolkata-based United Bank of India - is planning an initial public offer in the fourth quarter of the next financial year.
At the end of March 2009, Punjab & Sind Bank's capital adequacy ratio was estimated at 11.88 per cent, much above the regulatory requirement of 9 per cent. It intends to raise resources to fund its growth plans.
The bank sees 30 per cent year-on-year growth for at least two years and aims to reach a business figure (advances plus deposits) of Rs 100,000 crore (Rs 1,000 billion) by the end of 2010-11 against Rs 65,000 crore (Rs 650 billion) at present.