Being a victim of recurring political unrest over three decades, low productivity and escalating production cost, the Darjeeling tea industry has not been in good financial health over a long time.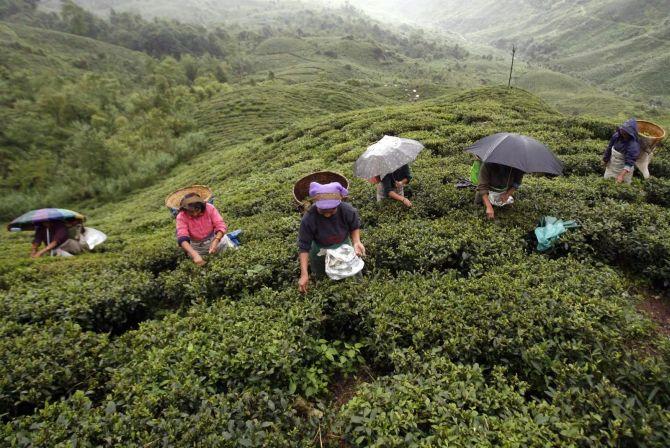 Disruptions in supply of Darjeeling tea since June resulting from continuous protests by Nepali-speaking ethnic Gorkhas for a state to be carved out from West Bengal have assumed serious proportions.
The wave of violence in the hills of Darjeeling, triggered by the West Bengal government's decision to make learning Bengali mandatory for students in local schools, has laid to waste this season's legendary second flush tea, for some lines of which aficionados in Western Europe and Japan will happily pay anything up to $850 a kg.
Darjeeling tea is among the first products from India to be patented under the Geographical Indications of Goods Act, and much of the hill produce is organic.
To add to the woes of planters, heavy rains in the absence of workers to maintain the plantations and proper drainage system have damaged the tea estates, crippling their prospects further; growers say it will take months to repair once the agitation ends.
Offerings of tea harvested in Darjeeling before the agitation broke out in June at auctions conducted by Kolkata-based J Thomas, the over a century-old tea auction house, are rapidly shrinking.
As a result, auction prices of Darjeeling tea are skyrocketing.
Transport disruptions caused by ongoing floods in north Bengal have tightened supply of what is still in the pipeline.
By the time production came to a halt in June, Darjeeling could harvest 2.06 million kg (mk) against 2.99 mk in the corresponding period of 2016.
Last year, the production of Darjeeling tea was 8.13 mk.
The hill production peaked to 11.586 mk in 2008. But debilitated by several factors, including political disturbances, production in the hills has remained range bound between 8.5 and 9 mk since then.
In the last few years, the industry took bold steps to make fresh investments in the estates in and around Darjeeling and reopen some closed gardens. Such initiatives will take a back seat now.
It's a cup full of second flush Darjeeling tea that brings ecstasy to connoisseurs of the beverage.
The distinctive features of the tea made during the second flush period are a gift of nature bequeathed to the hills of Darjeeling.
No wonder, then, Darjeeling tea has enjoyed the unofficial appellation of champagne of all teas over the decades.
Tea was first introduced in the misty hills in 1842 by Arthur Campbell. But its cultivation on a commercial scale since has been done in a traditional fashion to suit the Western palate.
The muscatel fragrance that it emits on brewing and its delicate and fruity essence have put Darjeeling tea on the same pedestal as champagne.
Seated at altitudes ranging from 750 to over 2,000 metres, the region's 87 tea gardens have the benefit of receiving enough moisture and intermittent rain and sunshine.
Hand plucking of tea leaves in the region runs from March to October and is split into four flushes, the second one being the most prized.
Celebrated it is globally, but being a victim of recurring political unrest over three decades, low productivity and escalating production cost, the Darjeeling tea industry has not been in good financial health over a long time.
Disruption of this season's second flush output, which accounts for one-fifth of the region's annual output but as much as 40 per cent of yearly revenue, has dealt a major blow to the finances of tea producing entities in Darjeeling.
Tea grown in the hills is mostly sold abroad as a blend of leaves from different gardens or as single packets with the mark of garden from where the leaves have been plucked.
Production suspension over such a long period has led to the inevitable replacement of Darjeeling tea by teas grown in other countries, particularly Sri Lanka.
Tea harvested at altitudes of 1,200 metres and above in Sri Lanka, and made the orthodox way with hints of orange and spice, is making good appeal to the palate of Europeans.
Shortages of Darjeeling tea could only give further openings to Sri Lankan beverage.
To Aditya Khaitan, vice-chairman and managing director of McLeod Russel, the world's largest tea growing company, Darjeeling production collapse brings back the unpleasant memory of 1984 when an ill-advised ban on CTC tea exports by New Delhi gave "a major export opener" to African teas.
What Africa gained was at the cost of Assam. "Assam never recovered the market share it had once in the UK," says Khaitan.
"Why should foreign buyers be bothered about the strike in Darjeeling? They want the tea. If that is not available, they will change blend and start replacing it with Kenyan or Sri Lankan tea."
For Darjeeling tea, and for the hills' 87 gardens employing over 160,000 people, around 60 per cent of whom are women, Khaitan points to an extremely disturbing future.
Tea and tourism are the backbone of the hill economy.
The current season's first flush Darjeeling tea is fast going off the shelves of outlets in London.
First flush tea from Darjeeling is still available at upmarket department stores like Fortnum & Mason in London.
But neither Fortnum nor Harrods will offer assurances as to how much longer Darjeeling tea will be available.
Photograph: Rupak De Chowdhuri/Reuters.