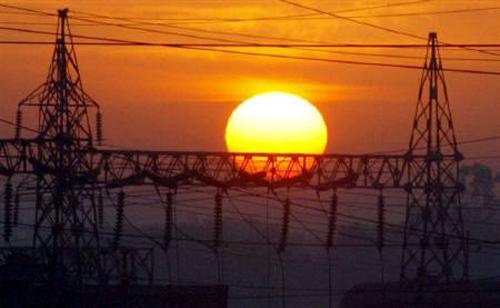 Power projects worth over Rs 36,000 crore and having total generation capacity of 7,230 MW are stranded due to shortage of coal, the government said on Thursday.
Efforts are being made for supplying adequate coal to power projects, the government also said. "As far as coal-based thermal power plants are concerned, a capacity of 7,230 MW is already commissioned but having no coal supply.
"Considering an indicative cost of Rs 5 crore (Rs 50 million) per MW, an investment of about Rs 36,150 crore (Rs 361.50 billion) has been made in the execution of these projects," Minister of State for Power Piyush Goyal said in the Lok Sabha.
The 7,230 MW capacity is spread across 12 projects. In a written reply, Goyal, who also holds the portfolios of Coal as well as New and Renewable Energy, said generation capacity of 42,480 MW commissioned after 2009 is presently entitled to only 65 per cent of their Letter of Assurance (LoA) commitment.
With regard to gas-based capacity, about 5,349 MW is ready for commissioning and is awaiting gas allocation.
"An installed and commissioned capacity of 24,149 MW is running at a very low average of 23 per cent PLF (Plant Load Factor)," the Minister said.
To address the issue of coal shortages, the Power Ministry has initiated certain steps including issuance of advisory to import the fuel. As per the advisory, the cost of imported coal would be made a pass through on case to case basis by regulators to the extent of shortfall in the quantity indicated in the LoA or Fuel Supply Agreement (FSA).
In a separate reply, Goyal said the government is "making efforts to make adequate fuel available for power generation through coal companies". To another query, Goyal admitted that gas-based power plants have been generating only 50 per cent of their installed capacity during the last few years.
"The main reasons for low generation is insufficient gas availability from Krishna Godavari Dhirubhai-6 (KG D-6) basin. "Gas-based generating station can also run on Regasified Liquefied Natural Gas (RLNG).
However, the imported cost of RLNG would render the final cost of power generated so high that it will be difficult to schedule the same for sale," the Minister said.
To increase gas availability for power plants, the Ministry of Petroleum and Natural Gas has taken various steps.
The steps include issuing guidelines on "clubbing/ diversion of gas between power plants of same owner with the intent to serve the largest public interest so that the available gas can be used more efficiently in order to improve the PLF with corresponding increase in electricity generation".