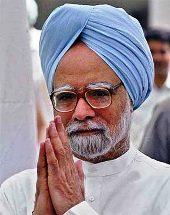 Samajwadi Party supremo Mulayam Singh Yadav seemed the happiest at the dinner hosted by Prime Minister Manmohan Singh to celebrate the beginning of the ninth year of the United Progressive Alliance government.

"Hamko bahut maan samman diya" (I feel honoured), he said, smiling from ear to ear, as he left.

This was the first time an 'outside' ally of the UPA (not part of the government) was made to sit on the dais beside UPA Chairperson Sonia Gandhi.

The seat occupied by Yadav was at the cost of another outside ally, Ram Vilas Paswan. But ever practical, the Congress hammered home the point that it was Mulayam Singh it needed more.

On being told Mulayam Singh had left the dinner satisfied, Home Minister P Chidambaram even remarked, "Now, we've won the election for the President of India."

Though the decisions of the chiefs of two crucial UPA allies -- the Trinamool Congress and the Dravida Munnetra Kazhagam -- to skip the dinner cast a shadow over the celebrations, as did the falling rupee and the exit of many foreign institutional investors from India, the prime minister was not his usual soft-voiced self. On the Opposition's charge of a policy paralysis, he said, "This (perception) can be corrected by reality. Misconceived perceptions can be corrected."

Virtually flagging off the campaign for the next elections, Sonia Gandhi accused the Opposition of being aggressive and making irresponsible statements.

"We are aware only two years are left to seek a new mandate from the people. We are fully aware that the result of that will not depend on our promises, but on the nature of the work done by us," she said.

India's economic performance was on everyone's mind. More than one MP mentioned the slide of the rupee and the flatness in capital markets. Finance Minister Pranab Mukherjee said, "Everywhere I look, currencies are bleeding."

The prime minister added, "In a market economy, the currency goes up and down."

The UPA's most important leaders—the chief ministers—were largely absent.

The only Congress chief minister to attend the meeting was Vijay Bahuguna, the Uttarakhand chief minister.

Party leaders said this was because assembly sessions were underway in many states.

Earlier in the day, the Opposition launched a broadside against the government on its anniversary.

Senior leaders of the Bharatiya Janata Party, at a parliamentary party meeting, said they felt the government at the Centre might fall anytime because of serious differences between the Congress and its allies.

BJP members said the Congress had done little to curb the menace of black money and the 97-page white paper on the issue hid more than it revealed.

At the meeting, Arun Jaitley categorically denied there was a fix-up with the government to send the Lok Pal Bill to a select committee, adding the BJP had agreed to send the Bill to the committee because it wanted a strong Lok Pal Bill.
Image: Prime Minister Manmohan Singh. | Photograph: Reuters