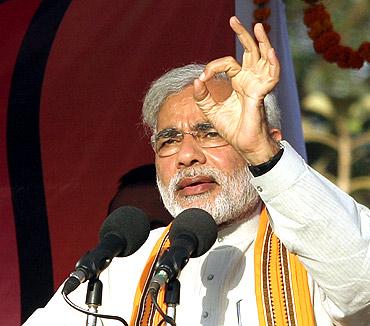 Prime Minister Narendra Modi gave a stirring speech at a meeting of the Dalit Indian Chambers of Commerce and Industry on Tuesday, but several Dalit entrepreneurs who were present said they would like to see more action on the ground by government to foster the Dalit entrepreneurial spirit.
DICCI was formed as a parallel body to industry and trade pressure groups such as the Confederation of Indian Industry and Federation of Indian Chambers of Commerce and Industry because Dalit entrepreneurs saw these groups as old boys' clubs where everyone knew everyone and helped each other, but were unable to appreciate the special handicaps that weighed down the socially disempowered.
The idea of a venture capital fund only for Dalits was floated by DICCI and was seized upon enthusiastically by the then deputy chairman of Planning Commission, Montek Singh Ahluwalia, who took a personal interest in the architecture of the fund.
It was announced amid great fanfare by the United Progressive Alliance in 2012 as a way to financing the expansion and modernisation of Dalit-run businesses and funding prospective Dalit entrepreneurs.
The original idea was to replace the existing schemes for scheduled castes and tribes, where the state has been the giver and the community the recipient.
Via the VC fund, the state was envisaged as becoming a partner by buying stake in Dalit-owned companies and having a share in the profits, too.
However, that did not really take off. Instead, finance minister P Chidambaram in his interim Budget 2014-15 speech announced Rs 200 crore for a Venture Capital Fund for Scheduled Castes (VCF-SC), that IFCI would run.
His successor, Arun Jaitley reconfirmed this outlay in his Budget, adding Rs 100 crore to be launched through the Vanbandhu scheme.
However, in its latest progress report dated December 2015, IFCI says it has sanctioned only Rs 104 crore and has disbursed only Rs 32.13 crore to 10 beneficiaries.
It hasn't been for want of trying. IFCI has held camps, workshops and public events all over India to offer investment, every month in 2015, sometimes twice a month. But, no one seems to be attracted to the product.
There's a reason.

Dalits have many avenues they can tap for loans: public sector banks, the National Scheduled Caste Finance and Development Corporation, the state governments. . . Banks give a loan at an interest rate of 11 per cent with a subsidy element and in many cases, bank managers know the individuals and their business so there is the added know-your-customer comfort.
In many states such as Gujarat, for instance, Dalits get a highly subsidised loan from the state government where the interest with the subsidy works out to two or three per cent and the state government bears the risk; and although no Dalit entrepreneur has ever got the full Rs 30 lakh (Rs 3 million) that the NSCFDC is supposed to give for a start-up business, for many it is a beginning.
The IFCI scheme offers no subsidy because it is a VC fund; and it works as a loan-giving authority because it is not a VC Fund. The interest it charges is 10 per cent, which is the same for everyone, SC or not.
"To save one per cent, why should a Dalit entrepreneur go to IFCI, travel all the way to Delhi and chase officials?
"At least the local bank knows you, it processes your papers in one month and gives you a subsidy. But the IFCI fund doesn't do anything for our particular needs," said N K Chandan of DICCI, who availed a loan from the IFCI venture fund.
The total amount he was disbursed for Chandan and Chandan Industries Pvt Ltd, a small unit that needed money to expand its operations to manufacture plastic metre cover and junction boxes was Rs 2.1 crore (Rs 21 million).
Of this, Rs 2.09 crore (Rs 20.9 million) was a loan.
The rest was from the VCF.
The IFCI also runs a credit guarantees scheme where banks are supposed to provide 75 per cent credit.
Although IFCI has an agreement with several public sector banks, no bank is ready to lend in a risky venture.
Entrepreneurs say they need access to capital -- but they also need entities who will buy what they produce on a preferential basis.
"My ancestors were India's original entrepreneurs in precision engineering: they made shoes.
"Everyone knows you cannot wear loose-fitting or tight shoes. They has to be an exact fit. So please don't tell us we don't know entrepreneurship. We got left behind. Now we need help. Then PM gave a rousing speech. We felt inspired. But we need concrete action on the ground," Chandan said.
In his speech, Modi said: "I understand humiliation.
"Even today, if there is a wedding procession and a Dalit groom is sitting on a mare, he is inviting social ire. Our feudal society does not tolerate people wearing good clothes: 'You are wearing smart clothes?' they look at you and ask. This exists even today."
He said Mudra Yojana would help small entrepreneurs set up business. He cited the large number of disbursals to indicate how much he was committed to Dalit empowerment.
"There is a class in society, which has no clue what summer or winter is, what is it walk the streets without shoes. . . but in this hall are people who have seen every crisis, sorrow and pain, humiliation and difficulty and have still carved out a life for themselves. I can understand how strong this has made you," said Modi.
Image: File photo of Prime Minister Narendra Modi. Photograph: Reuters