Within the first three months of 2014, the government managed to raise Rs 7,725 crore through share sales in just three PSUs -- Engineers India Ltd, BHEL and Indian Oil.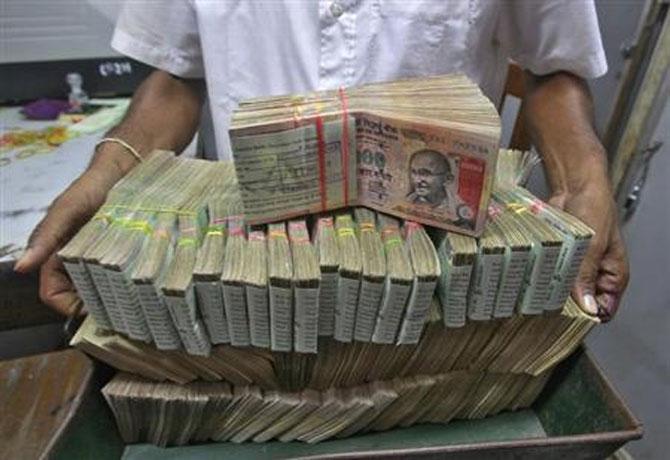 It began with a bang, turned into a whimper soon and bounced back again in the end, but sale of shares -- in PSUs and a private sector firm -- still fetched the government little over Rs 18,000 crore (Rs 180 billion) in 2014.
Still, a record-breaking stock market rally seems to have largely bypassed the government's disinvestment plans to raise funds from part sale of 'family silver' in 2014, as the proceeds fell by almost one-fifth from over Rs 22,000 crore (Rs 220 billion) garnered during the previous calendar year.
The New Year 2015, however, may see shares worth over Rs 50,000 crore (Rs 500 billion) being put on the table by the government, including by way of part-sale of its holdings in PSUs and its residual minority stakes in some private sector entities.
"You don't sell family silver in a scrappy market unless there is a distress," a senior official said, while explaining the disinvestment programme during the year passing-by.
The stock market may have reached new record highs, but there was too much volatility and occasions were rare to get the right price for offloading shares in such prized assets as PSUs, he said, while adding that the government is hopeful of better days ahead in 2015.
A top banker, who has advised on some PSU share sales, said the government's disinvestment programme in 2014 began on the right note, but lost track within a few months.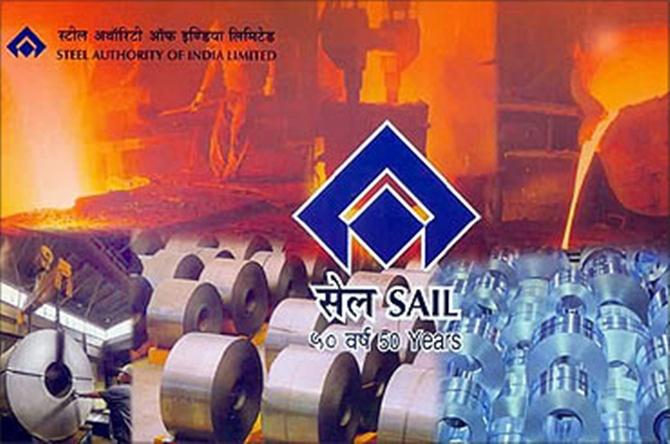 Image: Sale of shares in steel giant SAIL got a robust response. Photograph: Courtesy, SAIL
The end of the year, however, saw some success and sale of shares in steel giant SAIL got a robust response and was billed as 'SAIL's super sale' by market watchers.
Within the first three months of 2014, the government managed to raise Rs 7,725 crore through share sales in just three PSUs -- Engineers India Ltd, BHEL and Indian Oil.
This was topped by realisation of Rs 3,000 crore (Rs 30 billion) as disinvestment proceeds through a newly created CPSE Exchange Traded Fund that comprises of shares of listed CPSEs in March.
The same month also saw garnering of Rs 5,557 crore (Rs 55.57 billion) through part sale of shares in private sector lender Axis Bank, held through a special purpose vehicle SUUTI.
Together, the government managed to raise over Rs 16,000 crore (Rs 160 billion) in first three months from sale of shares, but this was followed by a long slump and the funds garnered during the next eight months was a meagre Rs 52 crore (Rs 520 million) -- that too through employee share offers in NTPC and National Fertilisers Ltd.
The last month of the year, however, saw the government raising little over Rs 1,700 crore (Rs 17 billion) through an offer for sale in SAIL, ending the year with total funds of Rs 18,059 crore (Rs 180.59 billion).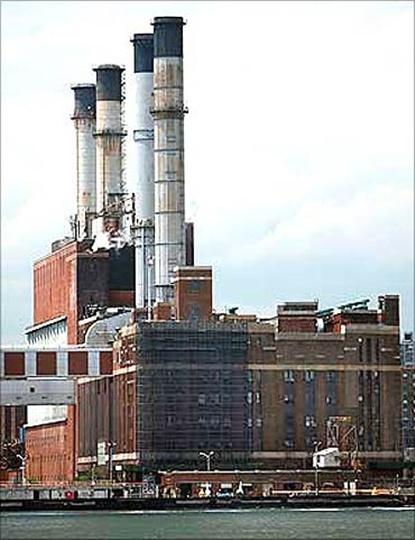 Image: Govt bullish on divestment . Photograph: Courtesy, BHEL
Overall, the government managed to sell shares in six PSUs and one private sector, besides through one multi-share ETF, during 2014. In comparison, the government sold shares in 13 companies during 2013, taking its total disinvestment proceeds that year to Rs 22,144.60 crore (Rs 221.44 billion).
Encouraged by good response to SAIL stake sale, the government, however, now plans to aggressively pursue its disinvestment strategy in 2015 to pare its holding in state-run companies, including ONGC and Coal India.
In the process, it faces a daunting task of meeting Rs 43,425 crore (Rs 434.25 billion) target for the current financial year that ends in March 2015, as against total proceeds of less than Rs 1,800 crore (Rs 18 billion) collected so far in this financial year.
In addition, it is also targetting Rs 15,000 crore (Rs 150 billion) for sale of residual stakes in private companies in this fiscal. "We will not sell our crown jewels at a lower price. We will garner as much value as we can when we sell equity in these companies," a top government official said.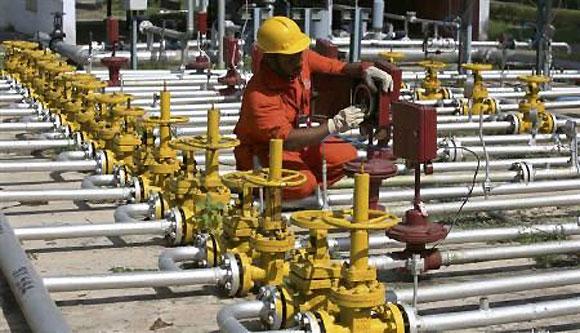 Photograph: Reuters
Hammering of the stock price as soon as the disinvestment is announced remains a worry for the Department of Disinvestment, which comes under the Finance Ministry and oversees monetisation of the government holding in PSUs.
"We are evaluating if we can secure cabinet approval for selling stake in PSUs and do the roadshows. Then we can hit the markets as and when we see the scrip has stabilised and can fetch exchequer good returns," the official added.
The DoD is working overtime to decide on the state-run entities which could fetch the best returns to the exchequer and has lined up as many as 10 companies for paring government equity.
Keeping retail investors in mind, the government has doubled quota for such investors in Offer for Sales to 20 per cent. Retail investors can invest up to Rs 2 lakh in a share issue and also get a price discount of 5 per cent.
The new quota is likely to be applicable in the upcoming OFS of bluechip PSUs like the ONGC and Coal India, which are likely to hit the markets in January-March quarter of 2015. While a 5 per cent stake sale in ONGC could garner around Rs 17,000 crore (Rs 170 billion) to the exchequer, another Rs 20,000 crore (Rs 200 billion) is likely to come from 10 per cent stake dilution in Coal India.
Government, which holds 68.94 per cent stake in ONGC, is selling 5 per cent of its holding. It has already completed the roadshow of ONGC in countries like Singapore, Hong Kong, London, New York and Boston.
The government had last sold 5 per cent stake in ONGC in 2012 for Rs 14,000 crore (Rs 140 billion). The country's largest insurer LIC had then come to its rescue putting in over Rs 12,000 crore (Rs 120 billion) and picking up 95 per cent of the total shares on the block.
The other companies which are on the government agenda for stake dilution include 10 per cent stake in Hindustan Aeronautics. Also 10 per cent in Satluj Jal Vidyut Nigam and MOIL are on the cards. A 5 per cent each in Container Corporation of India, PFC and REC are also on the table.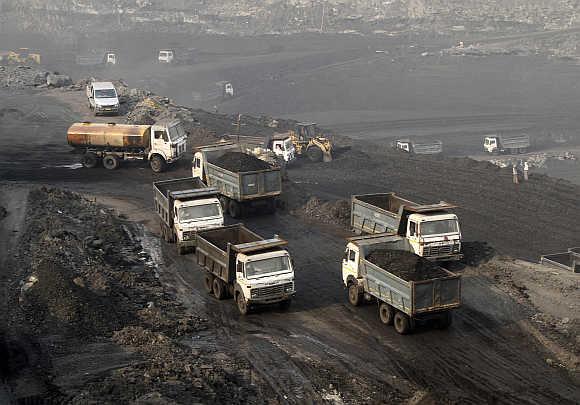 Photograph: Reuters
The only silver lining in the disinvestment programme between April-December was that the retail investors have shown much interest in buying the PSU shares. The response of retail investors to PSU disinvestments had not been encouraging in the past with the 10 per cent reserved quota barely managing to get fully subscribed.
In early 2014, the government sold 10 per cent stake in Indian Oil in an off-market transaction. State-owned ONGC and Oil India bought 10 per cent government stake in IOC. Also government sold 5 per cent in BHEL through a block deal to state-owned LIC.
The concept of CPSE Exchange Traded Fund saw a successful start as investors lapped up units offered under the ETF. The government also sold 9 per cent stake in Axis Bank, held through SUUTI, which was formed in 2003 and is an offshoot of erstwhile UTI.
SUUTI still holds 11.72 per cent stake in Axis Bank, besides 11.27 per cent in ITC and 8.18 per cent in L&T.

As the year draws to a close, the Finance Ministry is still staggering to raise the budgeted Rs 15,000 crore (Rs 150 billion) through residual stake sale in Hindustan Zinc and Balco.
The government, which currently holds 29.5 per cent stake in HZL and 49 per cent stake in Balco, is looking at exiting the two firms in which Anil Agarwal-led Vedanta Group holds the majority stake.

The government had sold controlling stake in these companies between 2001-2003.