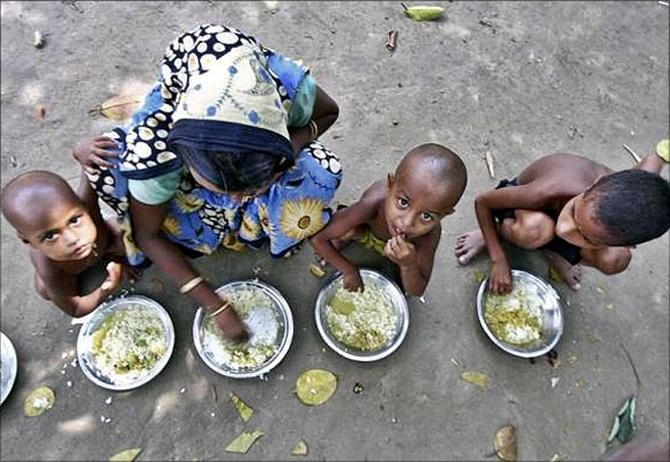 Image: Children eat their community lunch inside a relief camp near Bilasipara town in Assam. Photograph: Utpal Baruah/Reuters
Though hunger levels are not alarming in India, it still fares badly, lagging behind Nepal and Sri Lanka on the Global Hunger Index.
While its rank has improved to 55th rank in the Global Hunger Index this year, from 63rd position (GHI) last year, its hunger status remains classified as "serious".

"Progress in dealing with underweight helped India's 2014 GHI score fall to 17.8 points. India now ranks 55th out of 76 countries, before Bangladesh and Pakistan, but still trails behind neighbouring Nepal and Sri Lanka," the GHI report said.
While India is no longer in the "alarming" category, India's hunger status is still classified as "serious", says the report.
India's score in the index improved significantly from 21.3 points last year to 17.8 points this year. The lower the score, the lesser the incidence of hunger as estimated by the IFPRI.
Levels of hunger are "extremely alarming" or "alarming" in 16 countries, with Burundi and Eritrea both classified as "extremely alarming," according to the 2014 GHI. Most of the countries with "alarming" GHI scores are in Africa.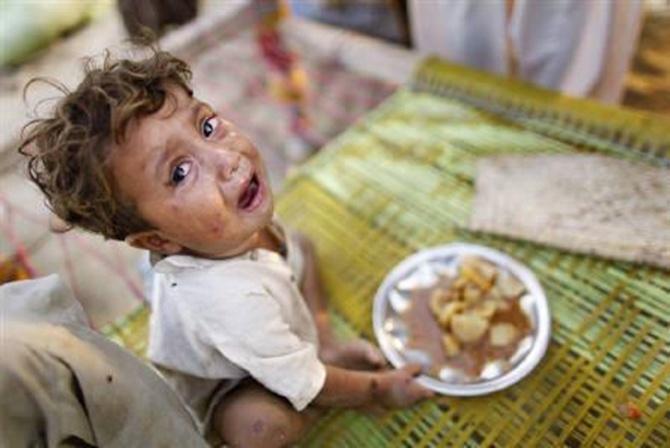 Image: A child cries during the evening meal at a road-side camp for flood victims near Shabar Jangi on the outskirts of Peshawar. Photograph: Tim Wimborne/Reuters
The report states that though the fight against hunger has intensified, 805 million people across the world still remain hungry.

While Pakistan and Bangladesh are ranked at 57th position in the Hunger Index, Sri Lanka with a score of 15.1 is ranked at 39, well ahead of India. Angola, Bangladesh, Cambodia, Chad, Ghana, Malawi, Niger, Rwanda, Thailand, and Vietnam have shown much progress.

China scores 5.4 on the Index, (ranked 5th) which signifies lesser population of hungry or malnourished.

Take a look at the countries that have the highest number of hungry population according to the GHI report…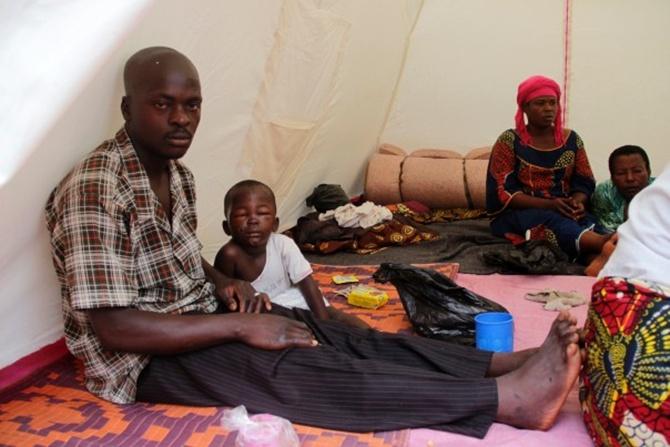 Image: Civilians displaced by floods inside a temporary tent in the Burundian capital Bujumbura. Photograph: Jean Pierre Aime Harerimana/Reuters
Burundi (Africa)
Rank: 76
Score: 35.6

Burundi is among the countries worst affected by poverty, hunger and malnourishment. Food insecurity, poor education and high inflation have added to the nation's woes.

South Asia and Sub-Saharan Africa face the worst hunger problems.
Mauritius and Thailand are ranked the best with a score of 5 with the least number of hungry people. The International Food Policy Research Institute and NGOs Welthungerhilfe and Concern Worldwide have jointly prepared the report.
On a 100-point scale, a score of zero represents no hunger and a score of 100 shows entire population is undernourished.
Image: Eritrean refugees. Photograph: Aaron Maasho/Reuters
Eritrea (Africa)
Rank: 75
Score: 33.8
Eritrea has 'extremely alarming' poverty scores with the highest proportion of undernourished people, says the report.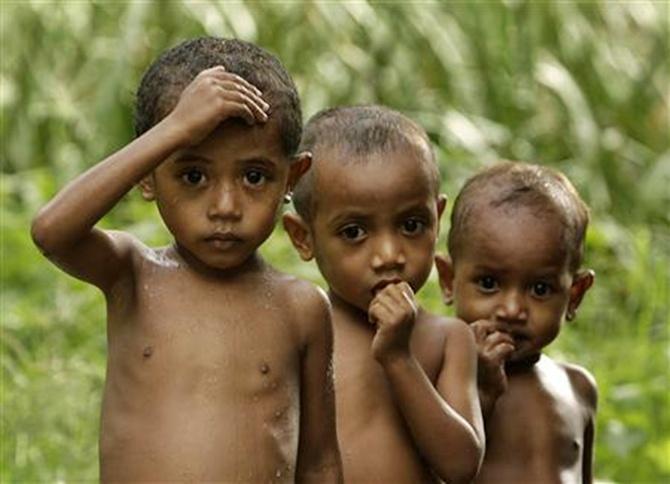 Image: East Timorese child refugees. Photograph: Beawiharta/Reuters
Timor-Leste
Rank: 74
Score: 29.8
Timor-Leste has a high population of underweight children under five.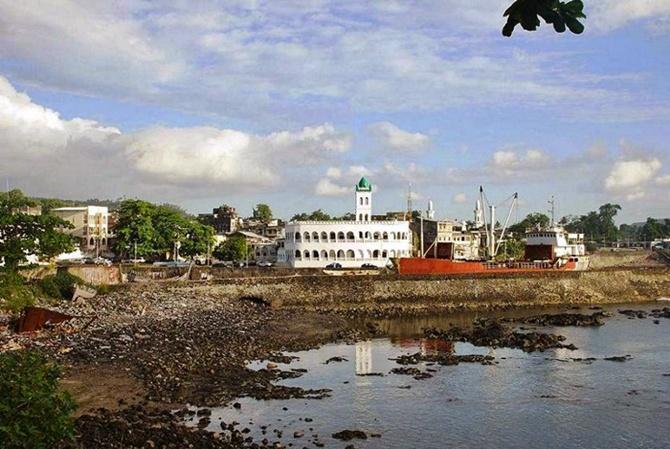 Image: Moroni, capital of the Comoros. Photograph, courtesy: Sascha Grabow/Wikimedia Commons
Comoros (Africa)
Rank: 73
Score in 2014: 29.5
Prolonged conflict and political instability contributed has wrecked havoc in Comoros.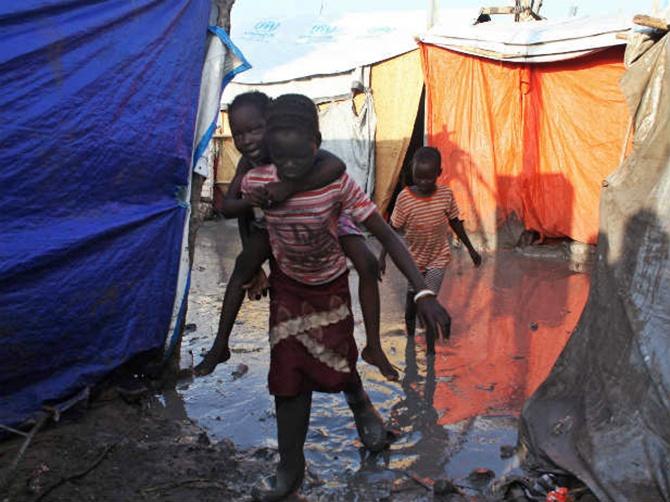 Image: A South Sudanese girl displaced by the conflict carries a kid on her back. Photograph: Andreea Campeanu/Reuters
Sudan/South Sudan
Rank: 72
Score: 26.0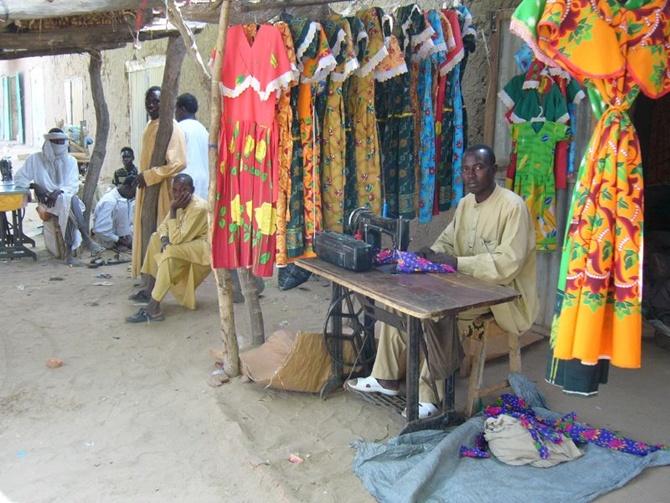 Image: A tailor in Chad. Photograph, courtesy: Mark Knobil/Wikimedia Commons
Chad
Rank: 71
Score: 24.9
One of the world's poorest nations, Chad has the highest under-five mortality rate.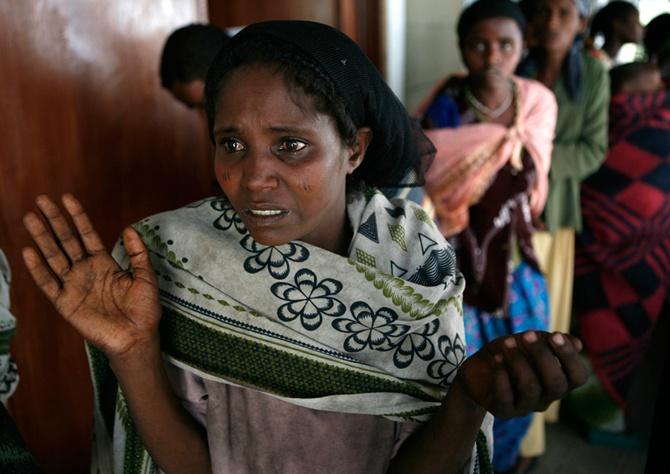 Image: Amina Nanessa Mohamed's four-year-old daughter Michu died of malnutrition near Sheshemene, southern Ethiopia. Photograph: Radu Sigheti/Reuters
Ethiopia
Rank: 70
Score: 24.4
The report states that 'micronutrient deficiency' affects about 2 billion people around the world. "Poor diet, disease, impaired absorption, and increased micronutrient needs during certain life stages are among the causes of hidden hunger, which may "invisibly" affect the health and development of a population," says the GHI report.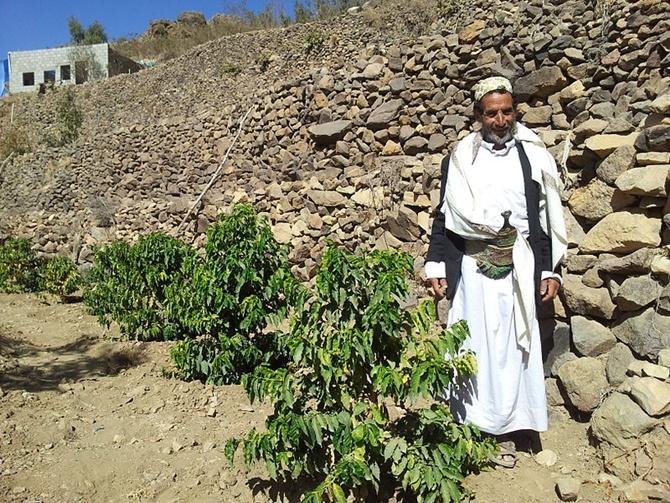 Photograph, courtesy: Mufaddalqn/Wikimedia Commons
Republic of Yemen
Rank: 69
Score: 23.4
The level of hunger in the world is still serious, with 805 million people continuing to go hungry, according to estimates by the Food and Agriculture Organization of the United Nations.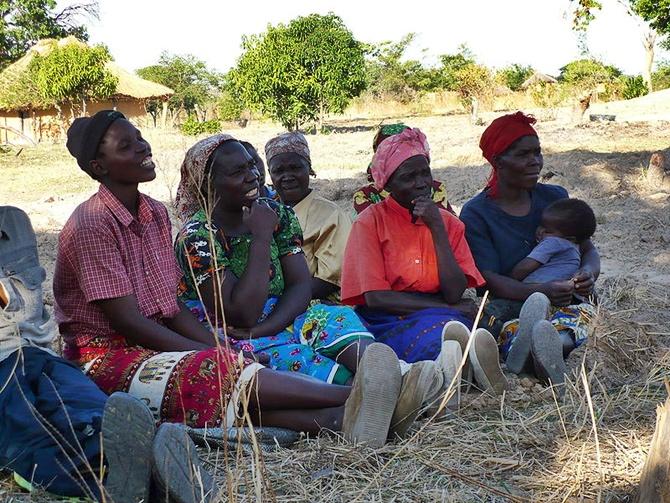 Image: People in a Zambian village. Photograph, courtesy: Florence Devoaurd/Wikimedia Commons
Zambia (Africa)
Rank: 68
Score: 23.2
Around 45 per cent of Zambian children under the age of five are stunted and suffer from chronic malnutrition.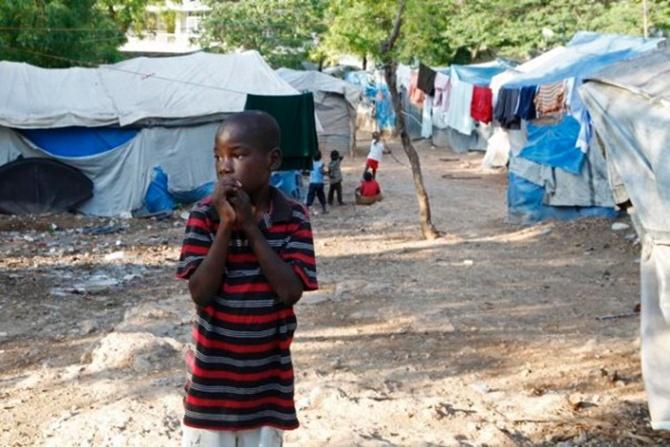 Image: A homeless boy in Port-au-Prince. Photograph: Arago/Reuters
Haiti
Rank: 67
Score: 23
Though Haiti has alarming rate of poverty, the hunger levels have come down from 33.6 in 1995 to 23 in 2014.
Inputs: PTI