Three recent initiatives kicked off with renewed vigour to improve governance were actually started, perhaps in a different format, by the UPA government, explains A K Bhattacharya.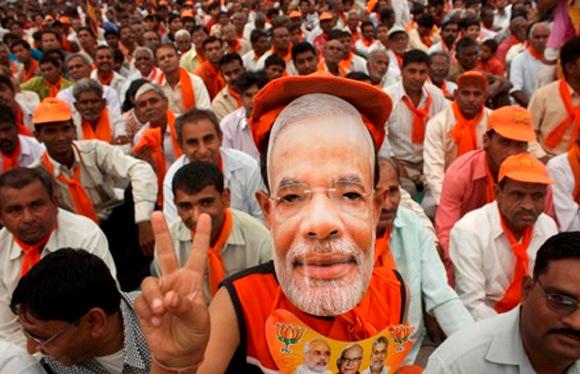 Image: Modi's initiatives old wine in new bottle. Photograph: Reuters
One relatively easy way of assessing how the government has tried to address the difficult challenge of governance as well as fiscal prudence will be to take a look at what it has done with respect to delivering subsidies to those who need them the most.

Three initiatives in the past few months, apparently unrelated to each other, deserve scrutiny in this context.
The first initiative pertains to the fillip given to the Aadhaar network of creating biometrics-based identity for the country's residents.

The scheme has got fresh momentum and the latest number on its coverage is estimated at 750 million, or over 60 per cent of the country's total population.

In May 2014, when the Narendra Modi government was formed, the total number of Aadhaar-enrolled people was 632 million or a little over 50 per cent of the population.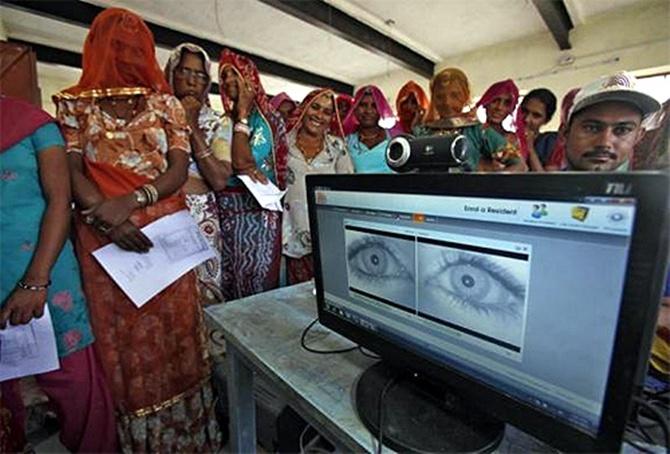 Image: Fillip given to the Aadhaar network of creating biometrics-based identity. Photograph: Reuters
The performance in some states is worth a close look. Uttar Pradesh, with a total population base of around 200 million, was brought under the Aadhaar scheme in early 2014 and by now about 75 million have been enrolled.

Already, it has covered about 38 per cent of the state's population and the pace of enrolments is expected to increase in the coming months as more agencies are being hired to implement the scheme.
Several states and Union Territories, including Kerala, Punjab, Haryana, Telangana, Andhra Pradesh, Delhi and Himachal Pradesh have already seen coverage of well over 90 per cent of their population.

The coverage in Maharashtra and Jharkhand is now over 80 per cent. And other states such as West Bengal, Madhya Pradesh, Tamil Nadu, Karnataka, Rajasthan and Gujarat have covered between two-thirds and three-fourths of their respective population under Aadhaar. Even Odisha's Aadhaar coverage is 61 per cent.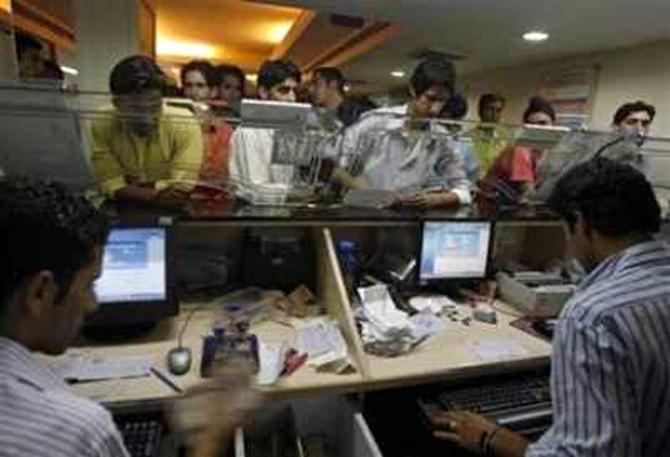 Image: Number of accounts opened under the Jan Dhan scheme has crossed 115 million. Photograph: Reuters
The second initiative is what is popularly known as the Jan Dhan Yojana.

The current government gave this a big push with Prime Minister Narendra Modi using his Independence Day address to announce the scheme that would provide banking facilities to those who are deprived of the benefits of financial inclusion and access.

The target at the launch of the scheme, according to the government, was to open 75 million new accounts by January 26, 2015.

By the middle of January, the number of accounts opened under the scheme has crossed 115 million.

One may doubt how many of these 115 million accounts have been actually opened now or whether these include already those who have been covered with a bank account.

But the figure of 115 million new accounts is huge and even after adjusting for the inflated numbers, if at all there is any, there should not be any doubt about the scale of the operation or its success.
The third initiative is what is now popularly known as the Pratyaksh Hastantarit Labh or Pahal, which allows consumers of liquefied petroleum gas (LPG) to claim their subsidies directly through their bank accounts.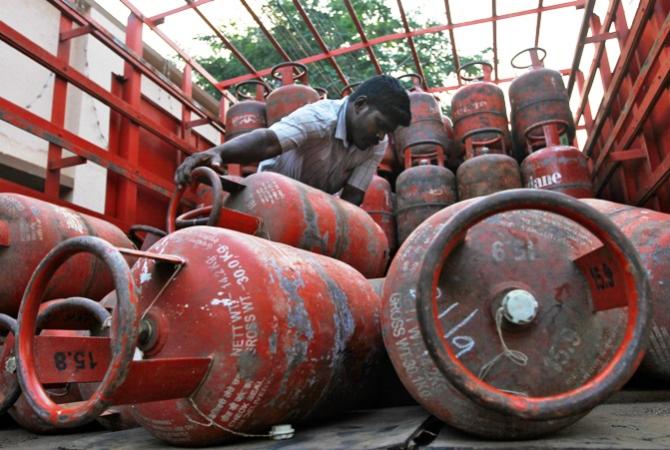 Image: About a quarter of all the cooking gas connections were seeded with banks accounts. Photograph: Reuters
This is the same scheme that the United Progressive Alliance (UPA) government had launched as the Direct Benefits Transfer scheme and had later halted its implementation as it met with some legal and procedural challenges.
The Modi government, however, renamed it as Pahal and revived it by relaunching it in 54 districts in mid-November of 2014. The objective of the scheme was to seed the 150 million LPG connections with bank accounts.

At that time, only about a quarter of all the cooking gas connections were seeded with banks accounts, where the subsidy amount would be directly transferred, preventing leakage.

In the last two months, the coverage has increased to include 90 million connections or about 60 per cent of the households that have a cooking gas connection. Of this, 55 million are Aadhaar-compliant or have an Aadhaar number.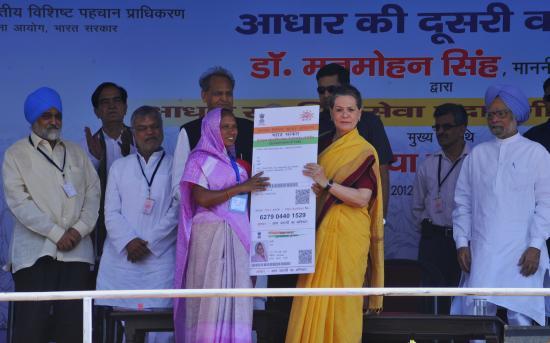 Image: UPA chairperson Sonia Gandhi and former Prime Minister Manmohan Singh handing over Aadhaar card at Dudu, Rajasthan. Photograph: Courtesy, UIDAI
And by March, the entire 150 million gas connections are expected to be brought under Pahal. Already, over Rs 7,200 crore (Rs 72 billion) in gas subsidies has been transferred to the bank accounts of households covered under Pahal.

Remember that the whole of India has around 240 million households, of which 150 million gas consumers would be covered under Pahal, with their bank accounts receiving the subsidies directly.
All these schemes should help improve governance and rationalise subsidies. A large number of the new schemes for delivering services to over two-thirds of the population by March 2015 and eventually to everybody in the country can be rolled out with virtually no scope for misuse, diversion or leakage.

And the irony is that all the three schemes were actually started, perhaps in a different format, by the UPA government.

The Modi government made a big difference by showing conviction in them and giving them a big push.