'It's been overwhelming to see such generous and warm responses,' Pichai tweeted.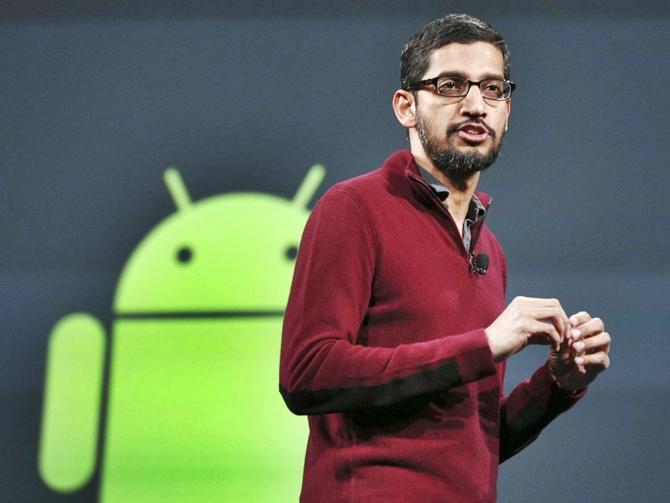 Google CEO Sundar Pichai has expressed gratitude over the deluge of wishes extended to him on his promotion to the helm of the technology giant.
"It's been overwhelming to see such generous and warm responses from many dear friends, colleagues and strangers - heartfelt thanks," Pichai, 43, tweeted on Wednesday.
Prime Minister Narendra Modi, Apple CEO Tim Cook and Microsoft CEO Satya Nadella were among the scores of dignitaries who took to the micro-blogging site to congratulate the IIT Kharagpur alumnus when he was named by Google's co-founder Larry Page as the next chief executive of the slightly slimmed down internet behemoth.
Pichai had said he hopes to meet Modi soon as he thanked the Indian leader for his wishes.
Pichai received a B Tech from the Indian Institute of Technology, Kharagpur and holds an MS in Engineering and Materials Science from StanfordUniversity and an MBA from the WhartonSchool.
He had joined Google in 2004 as its vice president of product management, where he led the team working on Google's Chrome browser and operating system. His alma mater Wharton had also tweeted on his promotion.
Madhya Pradesh Chief Minister Shivraj Singh Chouhan posted on Twitter, "Remarkable success of @sundarpichai will inspire youth across the country to work towards their chosen goals with more dedication and zeal."
Pichai thanked Nadella, Cook and others who congratulated him on his promotion.
Pichai becomes only the third chief executive of the company after Schmidt and co-founder Larry Page.
Schmidt wrote on Twitter, "Really excited about the vision and brilliance of Sundar. He's going to be a great CEO."
Bollywood star Shahrukh Khan, who had met Pichai last year during the promotional tour of his movie 'Happy New Year' at the Google head office in California, tweeted, "Well done and congratulations my friend. Well deserved. Running out of goodies your office gave, time to come back again for more."
Bret Taylor, co-creator of Google Maps, ex-CTO of Facebook and Co-Founder of technology Quip also congratulated Pichai, the first non-white CEO, on Twitter.
MORE STORIES ON SUNDAR!