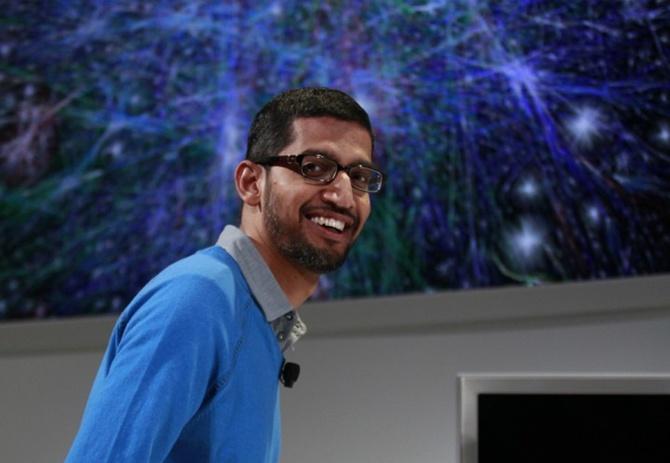 Image: Sundar Pichai. Photograph: Reuters
'As one of his oldest teachers, my message to Sundar would be: Please try to connect at least 20 per cent of Indians to the Internet.'
Dr Sanat Roy, who taught Sundar Pichai at IIT-Kharagpur, speaks to Indrani Roy/Rediff.com
I taught Pichai Sundararajan for four years at the metallurgical engineering department at the Indian Institute of Technology-Kharagpur.
He was a shy, unassuming, boy from Chennai.
He was soft spoken and serious and his eyes shone like bright jewels all the time.
He was very intelligent -- but then all IIT-ians are, isn't it? -- and attentive.
Sundar had a photographic memory and could remember any number that he ever came across.
He was very punctual. His sense of timing used to be a part of IIT folklore.
He was meticulous with his projects and assignments and stood out for his innovative thoughts.
Every now and then, Sundar came up with unique queries on engineering that were forward-looking and thought-provoking.
He was far ahead of his age, it was quite evident.
His was a brilliant mind that he preferred to keep confined mainly to academics.
Sundar was passionate about cricket, but apart from that did not take part in extra-curricular activities at the institute.
On August 7, IIT-Kharagpur conferred on him the Distinguished Alumnus Award in absentia.
Sundar could not make it to the event as he was busy with Android development.
I managed to get all the necessary information about his career from one of his secretaries.
In January, during KSHITIJ 2015, the annual techno-management fest at IIT-Kharagpur, he could not be present, but interacted with us through a 45-minute video conference.

To hold the top position in Google at the age of 43 is a commendable achievement and all his tutors, including me, are proud to bask in his glory.
We look forward to his new ventures and hope to see him climb newer heights.
As one of his oldest teachers, my message to Sundar would be: Please try to connect at least 20 per cent of Indians to the Internet.
For Google's new CEO, this could be the best return gift to his motherland.
Dr Sanat Roy, seen above, has taught at IIT-Kharagpur's Metallurgical & Materials Engineering department for more than 40 years.
MORE STORIES ON SUNDAR!