'Sundar Pichai is not only a great engineer but a good leader too'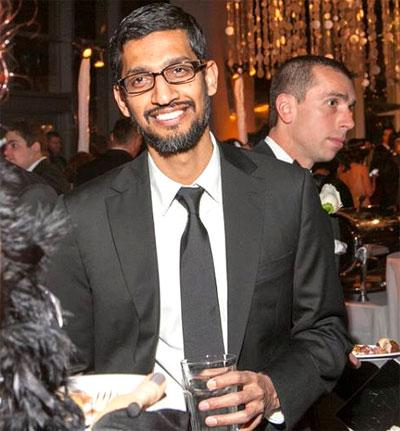 "Google chose the best person for the role," this is how Manu Rekhi, angel investor, principal at Inventus Capital and a former Googler described Larry Page's decision to appoint Sundar Pichai as the chief executive officer of the search giant.
Rekhi who had the chance to work with Pichai on a project when he was a group business product manager in 2005 told Rediff.com, "Sundar appointment shows that a good guy has come out on the top. And he did so with integrity and brilliant work."
Recalling Pichai who joined Google in 2004 Rekhi said, "He had raw smartness and off the charts emotional intelligence (EQ). He had the Midas touch and almost any project he touched turned to gold. Sundar will make a great CEO. He has surrounded himself with an amazingly talented team and he knows how to allocate resource and time very well."
Poll: Has India failed to nurture talent and create global companies?
Talking on the significance of Alphabet, Rekhi said, "This is a classic case of a company decentralising to become more manageable and accountable."
"It also takes pressure off the founders of Alphabet holding company to pay attention to other details and not bog Sundar down with ancillary bets. The founders and board can just lean on the respective company CEO to produce results. This is how General Electric has been managed for years," Rekhi said and added that Wall Street loves it because it unlocks value and there is far more transparency.
Asked on the Android and Google Plus challenges that Pichai faces as CEO, Rekhi said that Android has been a smashing success and has allowed Google to extend its dominance from personal computers to mobile. As for Google Plus, he said, "it was a large effort but a small part of Google. Google has and will continue to make bold moves. Not all these bold moves will succeed. But not trying is failing even before getting to the starting line. Moreover, Sundar has been groomed to become CEO for sometime. It's part of a good succession plan and execution."
TiE Silicon Valley president Venktesh Shukla, told Rediff.com, "People of Indian origin occupying such prestigious positions in the industry speaks well of the quality of Indian talent."
Vish Mishra, Venture director at Clearstone and advisor, Silicon Valley Center for Entrepreneurship at San Jose State University, reacting to Pichai's appointment told Rediff.com, "For investors like us, Google's restructuring is more about window dressing. The only difference is they have appointed Sundar Pichai as CEO, the excitement is there but it was known anyway."
"Sundar now has more responsibility from product to marketing and Larry has been preparing him on this."
"Sundar is not only a great engineer but a good leader too, we all are very happy for him. He has a pleasing personality and works well with people and that is most important for a CEO," said Mishra.
Mishra said, "If you see him in a crowd he does not stand out, because he maintains low key. But if you hear him speak then you can make the difference."
Commenting on Alphabet he said the move by Google is welcome, because people were confused on what exactly was Google. Now it's good for shareholders and Google Venture and Google Capital. The new company Alphabet is a conglomerate but still 90 per cent of its business is still that of Google's -- YouTube, Maps, Nest and Ads.
Arogyaswami Paulraj, professor, Stanford University and the inventor of MIMO wireless communications commenting on Pichai told Rediff.com, that he hasn't met him but have heard he is extremely bright, can ask the right questions and is a highly focused leader who can build successful products. "Google is fortunate to get him as the next CEO."
"One more evidence that India has abundant talent. We need to build global companies out of India too," Paulraj said and added, "Hopefully, I will get to meet him now."
Photograph via Facebook