Sulking Science and Technology Minister S Jaipal Reddy on Monday said anybody handling the ministry of petroleum and natural gas would be "totally frustrated".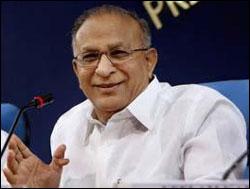 I was the minister of petroleum and natural gas. Anybody who handles this portfolio will be totally frustrated as nobody knows why the oil prices increase," he said at the International Bio-energy Summit in New Delhi.
Reddy pointed out that India imported 75 per cent of its oil requirement and no one can explain why and who is increasing oil prices when there is no disconnect between demand and supply.
"That is the mystery economists have to solve," he said.
70-year-old Reddy, who was made the petroleum minister in January 2011, was shifted to the Ministry of Science and Technology and Earth Sciences in the Cabinet reshuffle on October 28.
Bharatiya Janata Party and civil society leaders have attacked Prime Minister Manmohan Singh's decision to take Reddy out of Petroleum Ministry contending that the move had been dictated by corporate pressure.
Reddy, however, had said that the Prime Minister had taken him into confidence before changing his portfolio.