Companies offer partial ownership and timeshare, beside other combinations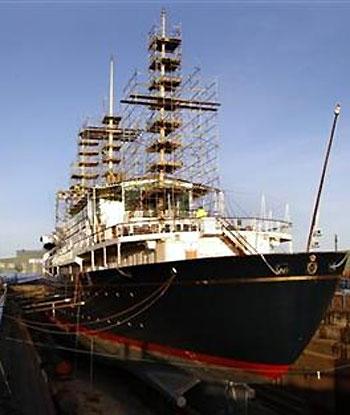 Owning a yacht is supposed to be the statement of ultimate luxury. Gautam Singhania of textile firm Raymond and Anil Ambani of Reliance ADAG are proud owners of one. Many corporate houses own yachts, too, such as the Godrej Group and Mahindra & Mahindra.
Still, you don't need to be a multi-billionaire to possess or sail one on the blue waters. Companies with presence in Mumbai and Goa have come up with schemes that can let you experience the ultimate luxury at an affordable cost.
Aquasail and West Coast Marine Yacht Services offer partial ownership of yachts, that brings down the cost acquiring one by over 65 per cent. This means, a person can get one by paying no more than Rs 20-25 lakh (Rs 2-2.5 million). If this still appears out of bounds, you can opt for timeshare programmes that cost as little as Rs 50,000 to Rs 120,000 a year.
Where?
If the sea has been your calling but you don't know where to start, begin by sailing. You can charter a yacht and take family and friends for an outing at the sea. For a group of eight to 10 who wants to sail around Mumbai for four hours, a person would need to shell out a minimum of Rs 6,000 an hour and the charges can run up in lakhs if one opts for bigger boats. This will include the cost of the staff that will manoeuvre the yacht. Fuel, food and beverages, and all other costs are extra.
You can also go on a sailing holiday. For example, West Coast Marine Yacht Services charges Rs 28,000 a person on a luxury boat for a two-day trip from Mumbai to Murud, a coastal town close to the metropolis. The maximum intake is 10.
Most of these companies encourage customers to opt for a sailing yacht rather than power boats. "Over 90 per cent of the people that opt for power boats use these to travel from one port to the other. They are also expensive to buy and maintain. It also doesn't have the same level of engagement," says Shakeel Kudrolli, managing director of Aquasail.
Both the companies, Aquasail and West Coast, have sailing programmes, too. There's a beginner's course for about Rs 1,000 an hour. Then there are professional certifications such as Coastal Skipper and Yachtmaster Offshore. These have two modules, where a person is first taught to sail different boats and then the navigation techniques. The course can be taken at your convenience - either on weekends or at one go over three days. The cost starts at Rs 15,000 but can go higher if the person takes longer. Certifications are offered in tie-ups with national and international programmes.
Timeshare
After experiencing sailing, if you want to be in the waters often but without the hassle of owning a boat, a timeshare option works the best. This is similar to the timeshare holidays that Club Mahindra or Sterling Holidays offer. A person can take a package suited for his or her needs.
There are various combos that companies offer. The higher the amount you offer upfront, the cheaper it gets. For example, if you take a timeshare paying Rs 50,000 with Aqualsail for say 10 -12 sailing hours, you will get only a small yacht. If you offer Rs 120,000 upfront, then you can sail unlimited for a year. The number of hours would also differ on the type and size of yacht a person chooses. The bigger the boat, lesser the hours.
For power boats, the cost works out to between Rs 700,000 and Rs 10 lakh (Rs 1 million), depending on the size. This comes with unlimited hours of sailing. That is, a person can book the boat whenever he wishes to but needs to bear the fuel cost.
Fractional ownership
This is the next step if your passion for sailing continues to grow, say experts. "Usually, busy professionals and entrepreneurs who only want to sail but don't need the hassle of maintaining the boat opt for this," says Aashim Mongia, managing director, West Coast Marine. Traditionally, friends purchased yachts by pooling the money and sharing the ownership. However, in some cases, there were disputes later, followed by fights and legal battles. Over time, the companies have evolved the model.
Now, you can opt for fractional ownership without meeting the other person. The company buys the yacht once they have the qualified three or five members wanting to own a boat. The agreement carries the names of all the owners. The boat stays with the company, which looks after the maintenance and upkeep. Whenever a person wishes to sail, they need to log on to the firm's website, select the available dates and book.
An oceangoing, A-classified, 55-ft long yacht which can accommodate eight to 10 people costs Rs 8-10 crore (Rs 80-100 million). Smaller boats with limited passenger capacity can be as low as Rs 80 lakh (Rs 8 million). Other than paying for the boat, there will be annual maintenance charges, starting at Rs 250,000 a year for each owner if there's a group of five. These include parking cost, insurance, maintenance, dry docking and so on.
The only drawbacks of partial ownership are that the owners need to maintain a certain decorum and cleanliness laid down by the company. The companies also take caution to divide the sailing hours among owners on special occasions such as New Year or Diwali. "The ownership contract is for five years between five people. Every year, a different owner gets the yacht," says Jitendra Rami, head, operations, West Coast Marine.
After the contract expires, owners can opt to sell the yacht or some might like to exit, while others might like to buy their share at the depreciated value. So, the companies draw a new agreement, depending on the ownership change and budget.
Sailing out of harbour
If you wish to take the yacht to Lakshadweep or Goa all by yourself, called bear boat chartering, here's what you need to do:
Get a relevant certification to operate the yacht
Get an 'A classified' yacht that can withstand rough weather
Offer the company personal credentials, financial credentials, social standing, and references that can vouch for you
Get yacht identification number, provided by the port authority
Get a certificate from Indian Marine Federation after surveying the yacht
Buy a hull and a personal accident insurance
Get an NoC from fishing society, in case you will be passing one
Take permission from harbour master to sail out of the port, who will also intimate the destination port of your arrival