Global private equity (PE) funds are understood to have come back to the table to discuss an acquisition of Bangalore's UB Towers, the 17-storey corporate head office of UB Group, in a close-to-Rs 600-crore (Rs 6 billion) deal.

After an earlier attempt failed last year, apparently due to differences over valuation, this is the second time that PE funds are discussing a possible transaction with UB Group.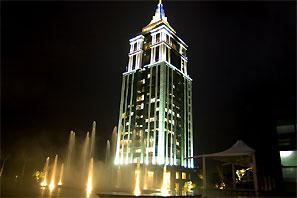 According to real estate investment bankers, the talks with PE funds are for a sale and lease-back of the landmark corporate head office, on Vittal Mallya Road in Bangalore's Central Business District. Global funds, including Blackstone, KKR and Singapore-based Mapletree, are learn to be in various stages of discussions with UB Holdings, the primary holding company of the Vijay Mallya-controlled UB Group.

"Technically, the deal was never out of the market. It had only gone in the cold storage because the asking price was on the higher side. Now that the group has completed the Rs 5,200-crore (Rs 52 billion) transaction in which it sold a strategic 25.02 per cent stake in its flagship United Spirits to global spirits major Diageo, UB might be looking at going ahead with this deal," a senior investment banker who advises global PE funds told Business Standard. On its part, UB Group said there was no such initiative at present, while the PE funds could not be reached.

Investment bankers further added UB Holdings, facing a slew of legal cases over its exposure to the loans of now-grounded Kingfisher Airlines and increasing pressure from a consortium of lenders, may be forced to seriously go ahead with the transaction this time.
"Of the Rs 6,500-crore (Rs 65 billion) outstanding on its loans to Kingfisher, the lenders' consortium has been trying to get from UB Holdings as much as possible. For UB Holdings, which had given corporate guarantees for the loans, UB Towers is a valuable asset that can be leveraged," another investment banker added.

In addition to the sale and lease-back of UB Towers, the holding company might also be looking to monetise about 900,000 sq ft of its 1.6-million-sq-ft commercial and retail UB City, adjacent to UB Towers.

The entire complex had been developed by UB Group in partnership with Prestige Estate, a publicly-held real estate developer, on UB's land. On this land, the group had a brewery that was later shifted to the outskirts of Bangalore. At present, the 123-metre-high UB Towers and UB City stand as a landmark for retail and commercial establishments.
Prime property

Location: UB Towers and UB City are spread over 1.6 mn sq ft of prime real estate in Bangalore's Central Business District

Height & area: The iconic UB Towers is 123 metres high and has 300,000 sq ft of developed real estate from where UB Group companies United Spirits, United Breweries, UB Holdings, Mangalore Chemicals & Fertilisers operate

Trigger for sale: UB Holdings is under severe stress, with lenders trying to get as much as possible of the Rs 6,500 crore outstanding loans to Kingfisher Airlines